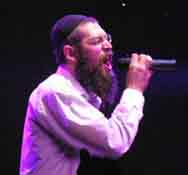 Perhaps one of the most eclectic talents in popular music today, Hasidic reggae singer/rapper Matisyahu (born Matthew Paul Miller on June 30, 1979) has been captivating audiences since he burst onto the scene in late 2004. His infectious mix of reggae, hip hop, and Jewish soul has attracted the praise of a multitude of fans and critics alike. By combining the dancehall reggae sound of artists like Bob Marley and Buju Banton with the energetic ska of Sublime, as well as the Jewish spirit of Rabbi Shlomo Carlebach, Matisyahu has created a popular cultural fusion that has inspired fans across the world.

Matisyahu was born in West Chester, PA, and eventually settled with his family in White Plains, NY. He was brought up as a Reconstructionist Jew. Matisyahu describes himself as a hippie at age 16 who was interested in reggae artists like Bob Marley. He even dropped out of high school at age 17 to follow the jam band Phish to the West Coast. "I wasn't into Judaism," he claimed in an interview with Ha'aretz. "I was into music, Reggae, Bob Marley, girls. My parents wanted me to travel. They signed me up for this three-month program . . .and that's how I got to the Alexander Muss High School in in Hod Hasharon." Matisyahu credits his trip on the Alexander Muss program as the catalyst to living a more actively Jewish life.

His most spiritual moment on the Israel program came during his first visit to Jerusalem, where he saw the city for the first time from the heights of Mount Scopus. "The people who take you there know very well why they are doing it. It has a big effect on a person to go up to this place, to overlook Jerusalem from above. You stand up there, overlooking this incredible city, and you sing Jerusalem of Gold and something big moves inside your heart. It was the first time I felt my soul, that I really felt it. I felt G-d."

Eventually, Matisyahu found his way to the Carlebach Synagogue in New York City. In 2001, he became a baal teshuva and turned to Orthodox Judaism while playing some shows in the area. He began serious Torah study in Yeshiva Hadar HaTorah, a yeshiva for baalei teshuvah located in the Hasidic center in Crown Heights, Brooklyn. He wrote and recorded his first album while he was a student at the yeshiva.

His popularity began to rise by word of mouth, and then through his early television appearances. After releasing his first album Shake Off the Dust...Arise on JDub Records in 2004, he began to get some mainstream recognition. He appeared on the late night talk show Last Call with Carson Daly in 2004, where Daly introduced him as "the most exciting thing happening in music today."

It wasn't until his second release, a concert album recorded in Austin, Texas entitled Live at Stubbs, did Matisyahu and his band (known as Roots Tonic) begin to achieve commerical success. To date, the album has been certified Gold by the US RIAA, meaning it has sold over 500,000 units, and peaked at #30 on the Billboard Charts. The live version of the single "King Without a Crown" has broken into the Modern Rock Top 10 and peaked at #7. His most recent album, Youth, released in March 2006 by Epic Records, is a smash hit and has also been certified Gold. Youth peaked at #4 on the Billboard Charts. On March 16, Youth was the #1 "Digital Album" according to Billboard.

The band that plays with Matisyahu, Roots Tonic, consists of Aaron Dugan on guitar, Josh Werner on bass and keyboards, and Jonah David on drums. Roots Tonic's musicianship and energy has been hugely important to Matisyahu's personal success. Bassist Josh Werner is credited with co-writing many of Matisyahu's songs. Guest musicians and rappers also have made appearances on his albums, and Matisyahu himself has made a guest appearance with the rock band P.O.D. on their album Testify.

Among his many accolades, Matisyahu was named one of the top 5 Jews in the American Jewish community by The Forward. In 2006, Esquire gave him the "Esky Award for Most Lovable Oddball," and called him the "the most intriguing reggae artist in the world." In June 2006, he was named the XBox Live Artist of the Month, and XBox made a video of the song "Youth" available for download.

When asked about what universal message he wants to convey to his listeners, he says he says his goal is to "bring a message of humility and holiness to the world. I want to help others recognize their potential within and their ability to break out of their boundaries, their constraints."

Matisyahu was married to his wife, Thalia, in August 2004. They have three sons: Laivy, Shalom and Menachem Mendel.

In December 2011 posted a beardless picture of himself on Twitter explaining that he was no more a "Chassidic reggae superstar." In June 2012, Matisyahu appeared in an online video to promote his new single "Sunshine" with his hair dyed blonde and without a yarmulke. Controversy also arose due to some confusion as to whether or not Matisyahu was still spiritually Jewish, though he confirmed several times that he certainly is still spiritually Jewish. Matisyahu is also a vegan and a founding member of the Jewish vegan organization, the Shamayim V'Aretz Institute.

In 2015, Matisyahu was set to play at the Rototom festival outside of Valencia, Spain. The Valencia BDS movement had pressured Matisyahu to release a statement expressing support for a Palestinian state, which he ignored. Although Rototom initially expressed support for Matisyahu, two days after - following pressure from the Valencia BDS branch - Rototom had cancelled Matisyahu's performance over a failure to clarify his position on the Israeli-Palestinian conflict. Following an international outrage and the possibility that the festival could be tried under Spain's anti-discrimination law, Rototom reinvited Matisyahu. For their role in the debacle, Valencia's BDS branch has stood by their original position in claiming that Matisyahu has "repeated defense of Israeli war crimes and gross violations of human rights, incitement of racial hatred, and connections to extremist and violent fundamentalist groups in Israel..."
---
Sources: Matisyahu Official site; Alexander Muss Institute for Israel Education, (December 12, 2005); Wikipedia; Chabad.org; The Forward, (November 11, 2005).

Vox.com, The Matisyahu Israel boycott controversy, explained

BDS Spain: Human rights campaigners in Spain clarify background to Matisyahu's concert cancellation at Rototom Sunsplash festival in Spain