The Einsatzgruppen: Massacres at the Ninth Fort
(August 1944)
A chain of nine tsarist fortifications constructed in the nineteenth century surrounds the city of Kaunas (Kovno). During the German occupation of the city in World War II, several of these forts became the sites of mass murder perpetrated by German Einsatzkommandos and their Lithuanian collaborators against the Jews of Kovno and Jewish deportees from central and western Europe.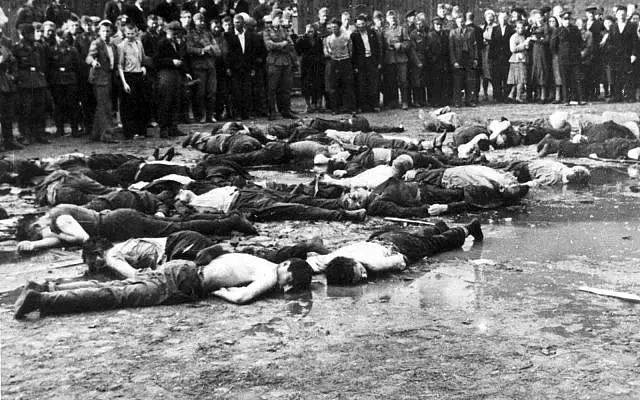 Aftermath of a massacre at Kovno, June 1941.  
In the summer of 1941 Jewish men and women from Kovno were captured by Lithuanian nationalists in random acts of violence and sent to Fort VII, where they were raped and/or murdered. In July alone over 3,000 were killed at this fort. At least 200 more were murdered at Fort V, and 500 at Fort IV, in this period.
The anti-Jewish violence became more systematic after the German Einsatzkommando III led by SS Standartenfuhrer Karl Jaeger asserted control over the area toward the end of the summer. At this time Fort IX became the major site of the killing actions. An estimated 40,000, were shot to death in Fort IX between the fall of 1941 and the spring of 1944.
In September 1943 the Germans launched an operation to exhume and burn the thousands of corpses buried in Fort IX. This effort was part of a larger program known as Aktion 1005, undertaken by the SD [German security police] to wipe out the evidence of Nazi mass murder throughout eastern Europe. Thirty-four prisoners from the Kovno ghetto, some of whom had been caught while trying to escape to the forests, were forced to take part in the operation, as were 26 Jewish POWs from the Red Army and four non-Jews.
Though the 64 members of this Sonderkommando [special unit] were kept under strict guard, they carried out a successful escape from Fort IX on Christmas eve 1943, utilizing a tunnel beneath the fortress. Eleven of those who escaped wrote an account the following day detailing the activities of the Sonderkommando, which was later submitted as evidence at postwar trials.
Despite the efforts made to conceal their crimes, the Germans continued to carry out mass shootings at Fort IX through the spring of 1944, including the police and children's actions of March 27-28, 1944. The final large scale killing action at the fort took place in May 1944, only two months before the liberation of the city, when a deportation transport of Jews from France was routed to Kovno for extermination.
Messages scrawled by Jewish prisoners on a wall inside the Ninth Fort, shortly before their execution.
George Kadish photographed the writings on the walls of the prison after liberation. One of the messages reads: "On July 4th, 84 men were brought from Vilna; 60 were killed right away (shot) and burned, 82 were shot later."
---