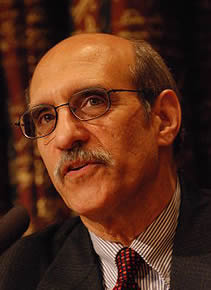 Martin Chalfie is an American biochemist who won the Nobel Prize in Chemistry in 2008.
Chalfie is from Chicago, Illinois, the grandchild of immigrants from Russia and Belarus. He studied biochemistry at Harvard University while competing in the swim team there. After graduating in 1969, Chalfie worked at a variety of different jobs before his research at Yale University led to his first publication. He then went on to receive his Ph.D. from Harvard in 1977.
His career has taken him to many different places such as the Laboratory of Molecular Biology and then to the faculty of Columbia University. He has published over 200 papers and was elected to the National Academy of Sciences in 2004.
When he received the Nobel Prize in 2008, he overslept and missed the phone call telling him that he was the winner. So when he opened up his laptop computer to find out who was the "schnook" who got the Prize that time, he found it to be none other than himself.
---
Sources: Nobel Foundation; National Academy of Sciences