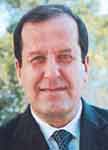 Majalli Whbee was born in the Israeli Druze village of Beit Jan in 1954. He completed his IDF service with the rank of lieutenant-colonel. He holds a B.A. in the History of Islam from the Hebrew University in Jerusalem and an M.A. in the History of the New Middle East from Haifa University.
Whbee served as Aide to the Minister of Infrastructure (1996-1999), as Senior Political Advisor in the Ministry of Foreign Affairs (1998-1999), and as Director General of the Ministry for Regional Cooperation (1999-2002).
Elected to the 16th Knesset in 2003, he served as a member of the Knesset Education, Culture, and Sports Committee and the Joint Committee for the Defense Budget.
In March 2005, Majalli Whbee was appointed Deputy Minister in the Prime Minister's Office.
He is married and the father of four.
---
Sources: Israeli Ministry of Foreign Affairs