Lewis "Lou" Reed
(1942 - 2013)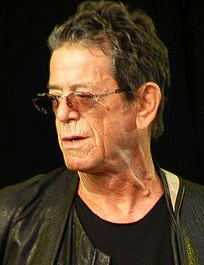 Lewis "Lou" Reed is a Jewish American rock musician and songwriter who first gained stardom with The Velvet Underground.

Reed (born March 2, 1942; died October 27, 2013) was born to a Jewish family in Brooklyn, New York, and grew up on Long Island. Having learned to play the guitar from the radio, he developed an early interest in rock and roll and R&B and during high school played in several bands. His first recording was as a member of a doo wop-style group called The Jades.

In 1960, Reed matriculated to Syracuse University where he studied journalism, film directing, and creative writing. He was also a platoon leader in Syracuse's ROTC, but was later kicked out for disciplinary reasons.

In 1964, Reed moved to New York City and began working as an in-house songwriter for Pickwick Records. That same year he scored a minor hit with the single "The Ostrich", a parody of popular dance songs, and his employers arranged for a band to be assembled around Reed to promote the recording. The group, called The Primitives, included musicians John Cale along with Tony Conrad.

Reed and Cale eventually moved into an apartment together on Manhattan's Lower East Side, and after inviting Reed's college acquaintances, guitarist Sterling Morrison and drummer Maureen Tucker, to join their group, they formed the band Velvet Underground. Though it was internally unstable - Cale left in 1968, Reed in 1970 - and flopped commercially, the band built a cult following in later decades and has a long-standing reputation as one of the most influential bands in rock history.

The group caught the attention of artist Andy Warhol, who integrated them into the Exploding Plastic Inevitable and gave them the idea to take on a chanteuse, the European former model and singer Nico. Despite initial objections, the band - now under the title The Velvet Underground & Nico - released a new album that reached No. 171 on the charts. This album is now widely considered one of the most influential rock albums ever recorded and Rolling Stone Magazine has it listed as the 13th most influential album of all time.

In August 1970, Reed left the Velvet Underground and went on to release a number of solo albums. In 1990 and 1993, the Velvet Underground reunited for short tours and in 1996 the band was inducted into the Rock & Roll Hall of Fame.

While Reed was born Jewish, he is famous for saying that he had no god apart from rock 'n' roll.

On October 27, 2013, Reed died from liver disease at his home in New York. He was 71 years old.

---
Sources: Wikipedia;
"Lou Reed's Jewish Identity: A Look Back At The Iconic Rocker's Relationship With His Faith," Huffington Post (October 28, 2013);
"Lou Reed's paradoxical Jewishness," Times of Israel (October 27, 2013);
Picture courtesy of Wikipedia Commons.