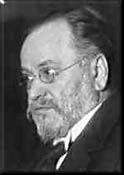 Leo Motzkin was born in Brovari near Kiev in 1867. At the age of fifteen he was sent to Berlin to attend high school and to pursue an academic career. At the University of Berlin, where he studied mathematics and sociology, he founded the Russian Jewish Academic Association, the first nationalist Jewish student society in that city. Motzkin was active at the First Zionist Congress where he took part in the formulation of the Basle program. In later years he placed greater emphasis on the cultural question, especially with regards the Hebrew language and education. He was a founding member of the Democratic Faction that called for the democratization of the Zionist Movement in its early years.
During the First World War Motzkin moved to Copenhagen to take charge of the Zionist Organization office that had been moved there in keeping with the Movement's policy of neutrality. After the war he settled in Paris where he continued to play a central role in Zionist affairs. He placed considerable emphasis on Zionist activity in the Diaspora, believing that this would remain the central theater of Jewish life. He argued for the establishment of a World Jewish Congress that would present Jewish interests to national and international forums, in particular, urging the case for Jewish national minority rights.
Motzkin died in 1933 in Paris. His remains were reinterred on The Mount of Olives in 1934.
---
Sources: The Jewish Agency for Israel and The World Zionist Organization