Julianna Marguiles
(1966-)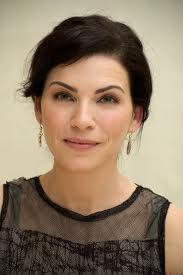 Julianna Marguiles is an Emmy and Golden Globe award winning actress originally from Spring Valley, New York. Marguiles is the youngest of her three siblings, and is descended from Jewish immigrants from Austria, Hungary, and Romania. She was born on June 8 1966; her mother was a dancer and her father was a writer, and they frequently moved around the world. Julianna lived in the US, France, and England before she turned 4 years old.
After attending High Mowing boarding school in New Hampshire from ages 14-18 Marguiles studied at Sarah Lawrence College in Westchester County New York where acting caught her interest. After college she moved to New York City to pursue an acting career while bussing tables and bartending. While attempting to break into the industry she was cast in small roles on shows like Law and Order and Murder, She Wrote but did not recieve any substantial screen time before being cast in 1994 as Carol Hathaway on the NBC drama series ER. Her character was in a turbulent relationship with George Clooney's character and was supposed to die by suicide after only one episode, but her acting skill convinced the writers to change the plot and she was featured as a main character on the show for 6 seasons. She was nominated for "Best Supporting Actress in a Television Drama" every season that she appeared on the show, but only won in 1994. She is the only regular cast member of ER to win an Emmy Award for her performances.
Following ER Marguiles career fizzled for a short while, with minor roles in the HBO series The Sopranos, and movies "Snakes on a Plane", and "Ghost Ship". She starred in the Fox crime drama Canterbury's Law as Elizabeth Canterbury, but this show was cancelled after 6 episodes due to complications from the 2007-2008 Writers Guild of America strike.
Marguiles made a stunning comeback in 2009 on CBS's legal drama The Good Wife, in which she plays an attorney named Alicia Florrick. She has been recognized on multiple occasions for her phenomenal role on The Good Wife, and has recieved the following awards for her performance on the show: the 2009 Golden Globe Award for Best Actress in a Television Drama Series, the 2009 Television Critic's Award for Individual Achievement in Drama, the 2010 and 2011 Screen Actors Guild Awards for Outstanding Performance by a Female Actor in a Drama Series, the 2011 and 2014 Primetime Emmy Awards for Outstanding Lead Actress in a Drama Series,and the 2012 Critic's Choice Television Award for Best Drama Actress.
Julianna Marguiles currently lives in Manhattan with her husband attorney Keith Lieberthal and their son Kieran.
---
Sources: Biography.com, IMDB