Judah Ben Solomon Hai Alkalai
(1798 - 1878)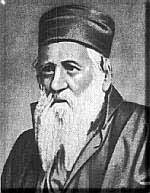 Judah Ben Solomon Hai Alkalai is one of the precursors of modern Zionism (b. Sarajevo, Bosnia; d. Jerusalem). At the age of 28 he became reader and teacher of the Sephardi community of Zemun, near Belgrade. Some years later he was appointed rabbi of the community, serving in this capacity until his emigration to Eretz Israel.
Steeped in the study of the Kabbala, Alkalai believed that the year 5600 (1840) would usher in the Messianic redemption of the Jewish people. In the introduction to Darkhei No'am, a book dealing with Hebrew grammar which he published in 1839, he called upon his fellow Jews to prepare for the redemption by prayer and spiritual devotion to Zion and by rendering material assistance to those already residing in the Land of Israel. He further developed his ideas in Shelom Yerushalayim (1840), in which he warned his people that misfortune would befall them if they did not prepare for redemption and exhorted them to give concrete expression to their devotion to Zion by dedicating one­tenth of their income ("tithe") to the support of those who dwelled in Jerusalem.
The Damascus affair (1840) had far­reaching effects on Alkalai's views on the redemption of the Jewish people. On the one hand he saw in the blood accusation a danger signal, warning the Jews to leave the lands of the Diaspora. On the other, the United Jewish effort led by Jewish notables from western Europe and the intervention of European powers on behalf of the victims revealed to him that a Return to Zion could be achieved with the help of the nations. In Minhat Yehuda (1843) and subsequent brochures and articles, Alkalai advocated the formation of an "Assembly of Jewish Notables" which would serve as the representative body of the Jewish people, appeal to the nations to permit the Jews to return to their ancient Homeland, and organize the gradual settlement of the Jews with the funds of the tithe. Supporting his ideas and arguments with ample quotations from Jewish religious literature, Alkalai asserted that the final supernatural redemption to be brought about by the Messiah must be preceded by the physical return of the Jews to Zion. To spread his ideas, Alkalai developed a prolific literary activity, and in 1851­1852 he toured several foreign countries, including Great Britain, where he published a pamphlet in English and established a short­lived Eretz Israel settlement society.
Alkalai joined the Colonization­Verein fure Paleastina, established by Chaim Lorje, and was very active on its behalf. In 1871 he visited Eretz Israel, where he established a settlement society, which, however, soon disintegrated. In 1874 Alkalai settled in Eretz ­ Israel.
---
Sources: "New Encyclopedia of Zionism and Israel," ed., Geoffrey Wigoder. Copyright 1994 by Associated University Press, The Jewish Agency for Israel and The World Zionist Organization.