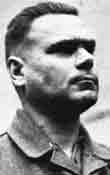 Josef Kramer, an only child, was born on November 10, 1906, and raised in Munich, Germany in a middle-class family. His parents, Theodore and Maria Kramer, brought him up as a "strict Roman Catholic." In 1915, the family moved from Munich to Augsburg, where Kramer attended school. He began an apprenticeship as an electrician in 1920. From 1925 to 1933, except for working in a department store and as an accountant, he was mostly unemployed.
He joined the Nazi Party in 1931 and the SS in 1932. His SS training led him into work as a prison guard and, after the outbreak of war, as a concentration camp guard.
Former guards at Bergen-Belsen are made to load the bodies of dead prisoners onto a truck for burial, 17–18 April 1945
The
Former guards at Bergen-Belsen are made to load the bodies
of dead prisoners onto a truck for burial (April 17-18 1945)
In 1934, he was assigned as a guard at Dachau. His promotion was rapid, obtaining senior posts at Sachsenhausen and Mauthausen concentration camps.
In April 1941, he was named commandant of Natzweiler-Struthof and later assistant to Rudolf Höss, the commandant at Auschwitz. He then served as commandant of Auschwitz II – Birkenau from May 8, 1944 until November 25, 1944.
He was brought to Auschwitz to manage the gassings of new transports in May 1944, according to the Prosecution Judge Advocate at the War Crimes tribunal that convicted him of being responsible for the murders committed at Auschwitz. At Auschwitz, Kramer became known among his subordinates as a harsh taskmaster. One of the defendants at the Frankfurt Auschwitz Trial, Dr. Franz Lucas, testified that he tried to avoid assignments given to him by Kramer by pleading stomach and intestinal disorders. When Lucas saw that his name had been added to the list of selecting physicians for a large group of inmates transferred from Hungary, he objected strenuously. Kramer reacted sharply: "I know you are being investigated for favoring prisoners. I am now ordering you to go to the ramp, and if you fail to obey an order, I shall have you arrested on the spot."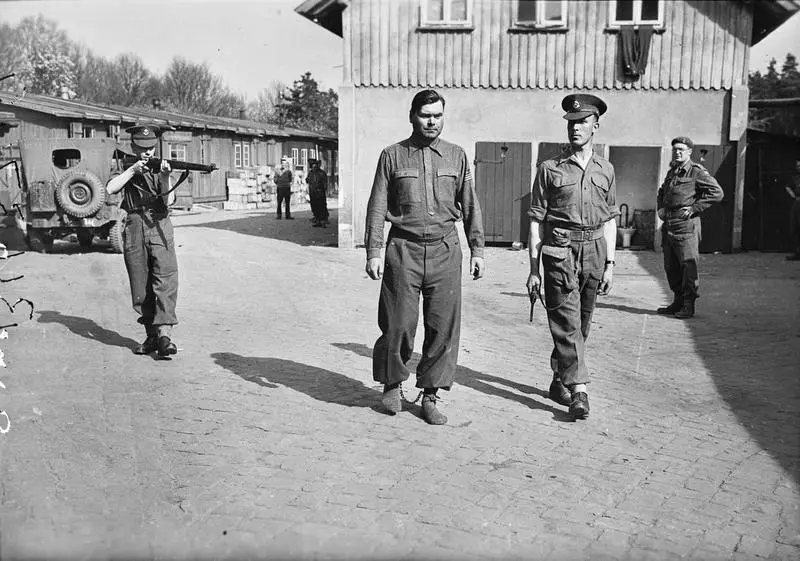 Kramer in legcuffs at Belsen (April 17, 1945)
In December 1944, Kramer was transferred from Birkenau to Bergen Belsen where he became known as the "Beast of Belsen." On March 1, 1945, he filed a report asking for help and resources, stating that of the 42,000 inmates in his camp, 250–300 died each day from typhus. On March 19, the number of inmates rose to 60,000 as the Germans continued to evacuate camps that were soon to be liberated by the Allies.
As British troops neared, many guards fled to escape retribution, roll calls were stopped, and the inmates were left to their own devices. Kramer remained until the end and took British soldiers on a tour of the camp. The BBC's Richard Dimbleby described what the liberators found in a dramatic radio broadcast.
Kramer was imprisoned in Hamelin. Along with 44 other camp staff, Kramer was tried in the Belsen Trial (September to November 1945) by a British military court at Lüneburg. Kamer was sentenced to death on November 17, 1945, and was hanged at Hamelin prison on December 13.
---
Sources: "Josef Kramer," Wikipedia.
Photos: Public domain - Wikipedia.