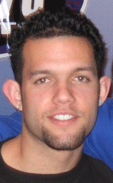 Jordan Robert Farmar (born November 30, 2986) is a Jewish American professional basketball player for the Los Angeles Lakers in the National Basketball Association.
Farmar was born in Los Angeles, California on November 30, 1986. His parents, Damon and Melinda, divorced when he was 3 and he went to live with his mother who soon after met and married his stepfather, Israeli Yehuda Kolani from Tel Aviv. "I was born in a Christian family," Farmar told The Jewish Journal of Greater Los Angeles, "And then my mom and dad got divorced and she married an Israeli. He was Orthodox when he was in Israel. He came over here and really reformed a lot. He wanted to have a family and treated me like his son. Everything after that was being raised in a Jewish household. Doing Shabbat dinner, celebrating the holidays and all that."
Farmar started playing basketball at age 4 and inherited his competitive drive from his father, who is his mentor and played baseball in the minor leagues. While in high school, Farmar was named Los Angeles Times Player of the Year, named California Interscholastic Federation Los Angeles City Section High School Player of the Year, earned USA Today Super 25 selection, and designated Southern California Jewish Athlete of the Year.
Farmar attended UCLA and was considered one of the elite point guards in the nation. He led the UCLA Bruins to defeat the Florida Gators at the National Championship game in the 2006 NCAA Tournament.
In April 2006, Farmar declared for the NBA draft and was drafted by the Los Angeles Lakers with the 26th pick. After winning two championship rings with his hometown Los Angeles Lakers, Jordan Farmar agreed to a three-year, $12 million contract with the New Jersey Nets on July 11, 2010.
In August 2008, Farmar spent a week in Israel leading a basketball camp for Israeli and Palestinian children, getting them to leave all their differences aside and play on the same team. In September of the same year, he joined the Chabad telethon and shot free-throws as a fundraiser. He made 37 free throws in 90 seconds and raised $66,600.
In the summer of 2009 he hosted the first annual Jordan Farmar Celebrity Golf Classic with proceeds benefiting the Jordan Farmar Foundation, which is run by his mother and primarily helps at-risk youths and children undergoing cancer treatment at Mattel Children's Hospital UCLA.
During the 2011 NBA lockout, Farmar was signed with the Israeli champion Maccabi Tel Aviv in the European leagues.
Awards & Honors
Los Angeles Times High-School Player of the Year: 2003–04
Rivals.com National Freshman of the Year : 2004–05
Pac-10 Freshman of the Year: 2004–05
All-Pac-10 Freshman First Team: 2004–05
All-Pac-10 First Team: 2005–06
Pac-10 All-Tournament Team: 2005–06
NBA Rookie Team 2006–07
NBA Sophomore Team 2007–08
---
Sources: The Jewish Journal of Greater Los Angeles, Wikipedia; Photo: This file is licensed under the Creative Commons Attribution-Share Alike 2.5 Generic license. Author: Timothymonaghan.