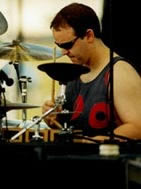 Jon Fishman is a drummer/percussionist who is most known for his work with legendary progressive rock band Phish. Fishman was one of the band's founding members when it formed in 1983, and remained with the band until its final show in 2004. Although Phish never achieved mainstream commercial success on the radio or on music television networks, the band became hugely popular through word of mouth and its relentless touring schedule. Fishman is credited with co-writing 18 Phish original songs, 7 of which he gets solo writing credit.
Fishman was born in Philadelphia, Pennsylvania on February 19, 1965, but was soon adopted and moved to Syracuse, New York. He began drumming at an early age, and was inspired by rock drumming icons John Bonham, Keith Moon, and Bill Bruford. In 1983, he attended the University of Vermont and founded Phish with Trey Anastasio, the band's guitar player.
Besides drumming for Phish, Fishman also sang backup vocals on several songs, and leads vocals on some of the band's covers. At many Phish performances, he would play a solo on an Electrolux vacuum cleaner. He also wore a dress at nearly every single Phish performance. Since Phish's demise in 2004, Fishman has drummed with the bands Pork Tornado (his own band) and the Jazz Mandolin Project.
As part of Phish's lengendary status, Jon Fishman is also now a rock icon. At the Millenium Celebration on New Year's Eve in 1999, Phish played the largest paid concert in the world that night at the Big Cypess Indian Reservation in the Florida Everglades to a crowd of over 85,000. After midnight, the band played a marathon seven-and-a-half hour set, one of the longest continuous sets in recorded history.
---
Sources: Wikipedia; Drummerworld