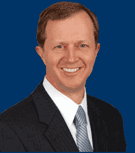 John Adler is a Jewish American politician and former member of the U.S. House of Representatives.
Adler (born August 23, 1959) was born in New Jersey and grew up in the Borough of Haddonfield.  His family owned and operated a local dry cleaning store for more than fifteen years, but after his father experienced a series of heart attacks that led to crippling medical expenses, they lost the business. Adler is a graduate of Harvard College and Harvard Law School.
In 1987, Adler was elected to the Cherry Hill Town Council and wrote the town's ethics ordinance. He then served for sixteen years in the New Jersey State Senate where he was Chairman of the Senate Judiciary Committee and emerged as a leader on environmental and health related issues, homeland security, ethics reform, and reducing corporate taxes on small business.
Adler won election to the U.S. House of Representatives in 2008 and was sworn into office on January 6, 2009 for his first term. He was the first Democrat to represent his district since 1882.
In 2010, Adler lost in a reelection bid for his position to former NFL star Jon Runyan.
Adler converted to Judaism in 1985 and married his wife, Shelley. They live in Cherry Hill, New Jersey, with four sons.
---
Sources: Congressman John Adler, U.S. House of Representatives; Wikipedia