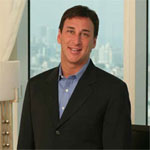 Joel Segal is a prominent Jewish sports agent in the National Football League. He has been named one of the most powerful sports agents in the country by Business Insider Law Review and the Sports Business Journal, and has represented 30 first round draft picks since 2001.
After graduating Law school from Hofstra Segal quickly grew dissenchanted with the sterile and unnexciting environment of a law office and moved back home with his parents to try his hand at making a career out of his passion for sports. He had limited credibility as a lawyer and lacked the practical experience as a sports agent, so players were reluctant to sign with his fledgling agency. After countless calls to football players, Segal signed his first client, a runningback with the New York Jets named Brad Baxter. After signing his first client other players were more open to signing with him. He began scouting for college players and in 1992 scored his first first-round draft pick with Kansas City cornerback Dale Carter. He found mild success within his own private practice, but he eventually joined Worldwide Football Management Inc and became President of the company in 1997. Over the following years he slowly built a stellar roster including some of the best players on the field, such as: Reggie Bush, Michael Vick, Santonio Holmes, Chris Johnson, Jason Campbell and many more. Segal is one of only two people to have represented multiple first-round draft picks for seven consecutive seasons.
Segal is the president of Lagardere Unlimited Football, the third largest NFL player representative agency. Lagardere Unlimited Football has almost $600 million in negotiated contracts. In June 2010 French entertainment conglomerate Lagardere purchased American company Blue Entertainment Sports Television and broke into American professional sports with Lagardere Unlimited. This acquisition solidified Lagardere's footing in the United States and furthered their goal of becoming the number one global sports media powerhouse. Segal currently manages the portfolios of 50 clients and regularly negotiates over $200 million in contracts for those individuals.
Joel Segal was inducted into the National Jewish Sports Hall of Fame in 2014.
---
Sources: Lagardere, Business Insider, Forbes, Sports Business Daily