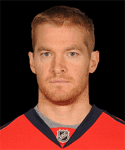 Jeff Halpern is a Jewish American professional hockey player. He is a member of the Greater Washington (D.C.) Jewish Sports Hall of Fame.
Born in Potomac, a suburb of Washington, D.C., Halpern is one of only three skaters from Maryland in the history of the NHL. His long journey to the top hockey league in the world began as a youngster when he went to Capitals' games with his parents. He explained, "I suppose I was there when I was a newborn. I have a collection of memories: racing over to games with my family, sitting up in the Cap Center, in the upper corners, watching the games."
His parents encouraged him to take up skating at the age of three, and enrolled him in a hockey clinic the following year. By the age of nine, Jeff was playing with kids of ten and eleven as a member of the Little Caps, a team comprised of the best players in the D.C. area. This allowed him to play more competitive hockey, but also meant he had to take trips to New York, Connecticut, and even Canada. His father Mel, who drove him to the tournaments, said, "We were in Ottawa July 1, Canada Day, five years in a row, for tournaments. We went to a tournament in Montreal three or four years in a row. Jeff was getting exposed to the best players on the East Coast."
When Jeff reached high school, however, Churchill High School in Potomac had no hockey team, and he was forced to travel great distances to continue his dream. Halpern then attended prep school in New Hampshire, with the goal of going to college with a strong hockey program.
Although Jeff played well in high school, he still did not attract attention from Division I schools. After graduating, he decided to play for a year in Stratford, Ontario, where he led his team to a championship and received attention from Ivy League schools, including Princeton, where he decided to matriculate. While at Princeton, Halpern played four seasons of varsity hockey and was named a ECAC second team All-Star in 1998 and 1999. His senior season (1999), Jeff was team captain and scored 22 goals, good enough to tie for the most goals in the ECAC, while leading the Tigers to a share of the Ivy League title (with Yale) and the most wins in school history; he also was co-winner of Princeton's Roper Trophy, awarded for athletic and academic achievement.
After college, Halpern was approached by NHL teams and agents, but he was only interested in playing for the Capitals, the team he grew up watching. After signing with Washington in March 1999, Jeff spent the remainder of the season in the AHL with Portland; he scored two goals and had one assist in six games. In 1999-2000, Halpern had a sensational rookie season with the Washington Capitals. Jeff played center in 79 games and scored 18 goals, had 11 assists, and 39 penalty minutes. In five playoff games, Halpern had two goals and one assist. Among rookies during the regular season, Halpern ranked No. 1 in shooting percentage (16.7%), No. 2 in short-handed goals (four), No. 1 in plus/ minus (+21), and No. 6 in goals scored.
Halpern improved during the 2000-01 season and surpassed his previous year's scoring totals. Jeff played in 80 games, scored 21 goals (one short-handed and five game-winning), with 21 assists (six power play assists) for 42 total points; he also had 60 penalty minutes and +13 plus/minus rating. His 19.1 shooting percentage (21-110) was among the highest in the league. The Capitals finished in first place in the Southeast Division with a record of 41-27-10 (96 points).
He signed a two-year contract with Washington during training camp and was considered a key player entering the 2001-02 season. Although the Caps had added superstar Jaromir Jagr to its roster, they struggled throughout the year and finished in second place in their division with a record of 36-33-11 (85 points). Unfortunately, Halpern tore his anterior cruciate ligament on January 16 in a game against the Montreal Canadiens and had season-ending surgery. Prior to his injury, Halpern, who had gained a reputation as a defensive center in his first two NHL seasons, played in 48 games and was eighth on the team with 19 points (5 goals and 14 assists).
During the 2002-03 season, Halpern appeared in all 82 regular season games as center of the Capitals' checking line, one of the best defensive lines in the league. Washington finished the season in second place in the Southeast Division with a record of 39-29-8-6 (92 points). Halpern scored 13 goals and 21 assists; he was eighth on the team with 34 total points. The No. 6 seed in the Eastern Conference, the Caps played the Tampa Bay Lightning in the first round of the playoffs. After winning the first two games of the series, the Caps lost the next four, including a triple-overtime thriller in Game 6. He registered one assist in the series, but took the most face-offs on Washington.
Halpern played for the Dallas Stars (2006-2007), Tampa Bay Lightning (2007-2009), Los Angeles Kings (2009), Montreal Canadiens (2010), Washington Capitals (2011) and New York Rangers (2012) before arriving back at the Montreal Canadiens during the 2012-2013 season.
---
Sources: Jews in Sports; Wikipedia