Isaac Asimov
(1920 - 1992)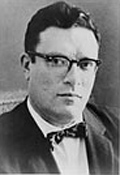 Dr. Isaac Asimov was a U.S. biochemist and author of over 500 books.
Isaac Asimov was born on January 2, 1920, in Petrovichi, Russia. His family immigrated to the United States when he was three-years-old, and was raised in Brooklyn, New York. During his childhood, his father and mother observed the Orthodox Jewish tradition, but did not force this belief upon Asimov, and so he grew up as a humanist and a rationalist, without strong religious influences. Asimov was a progressive on most political issues, and a staunch supporter of the Democratic Party. Around the age of eleven, Asimov began to write his own science fiction stories and, within a few years, he was selling many of them to pulp magazines.
Asimov graduated from Columbia University in 1939 and earned a Ph.D. in biochemistry there in 1948. In 1955, Asimov joined the faculty of Boston University, with which he remained associated thereafter. In 1979, the university honored his writing by promoting him to full professor.
Asimov is best known for his works of science fiction and for his popular science books. His most famous work is the Foundation Series; his other major series are the Galactic Empire series and the Robot series. Much of Asimov's fiction dealt with themes of paternalism, rational thought, and social oppression.
Asimov's writing career can be divided into several time periods. His early career, dominated by science fiction, began with short stories in 1939 and novels in 1950. When he was 18, he published his first story, "Marooned Off Vesta." In 1941, he published his short story, "Nightfall," which has been described as one of the most famous science-fiction stories of all time. In 1950 he published his first full-length science fiction novel, Pebble in the Sky. In 1942, Asimov began his Foundation stories- later collected in the Foundation Trilogy: Foundation (1951), Foundation and Empire (1952), and Second Foundation (1953). His Robot series-many of which were collected in I, Robot (1950)-were begun at about the same time.
Asimov's work with science-fiction lasted until about 1958, all but ending after publication of The Naked Sun. In 1952, he began publishing nonfiction, including a college-level textbook called Biochemistry and Human Metabolism. Starting in 1982, the second half of his science fiction career began with the publication of Foundation's Edge. He continued the Foundation series with Foundation's Edge (1982) and Foundation and Earth, and then went back to before the original trilogy with Prelude to Foundation (1988) and Forward the Foundation (1992). From then until his death, Asimov would publish several sequels and prequels to his existing novels.
In addition to his interest in science, Asimov was also greatly interested in history. Starting in the 1960s, he wrote fourteen popular history books, most notably The Greeks: A Great Adventure (1965), The Roman Republic (1966) and The Roman Empire (1967). He also published Asimov's Guide to the Bible in two volumes- covering the Old Testament in 1967 and the New Testament in 1969.
In 1986 he received the Science Fiction Writers of America Grand Master award, presented to a living author for a lifetime's achievement in science fiction and/or fantasy. He received a total of six Hugo awards, science fiction's most prestigious literary prize, for his novels The Mule, The Gods Themselves, and Foundation's Edge, as well as for his novelettes The Bicentennial Man and Gold and for his memoirs I. Asimov: A Memoir. He received Nebula awards for The Gods Themselves and The Bicentennial Man.
From 1985 until his death in 1992, Asimov took much joy in being president of the American Humanist Association.
Asimov died on April 6, 1992, in New York City from AIDS.
---
Sources: "Isaac Asimov (1920 - 1992)." American Jewish Historical Society, American Jewish Desk Reference, (NY: Random House, 1999). pg. 521-2. Encyclopaedia Judaica. Wikipedia. Photo courtesy of the United States Library of Congress