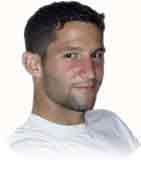 Ilan Bachar began his career as an attacker for Hapoel Ramat Gan, but veteran coach Yehoshua Faygenbaum made him a defender after he transferred to Maccabi Herzelyia. Betar Jerusalem then discovered the young talent and Bachar became part of the starting lineup. Bachar played well for Jerusalem in the 1998-99 season, and they reached the cup final.
Bachar moved to Hapoel Tel Aviv for the 1999-2000 season, in a move that changed his playing style. In the flashy attacking style touted by Betar, Ilan held the defensive line tightly, however, in the hardworking enviroment of Hapoel Tel Aviv, where there where no big offensive stars, Bachar was allowed the freedom to express his untapped attacking flair. Tel Aviv won the double that year and Bachar enjoyed his best year yet.
In 2001-02, Tel Aviv reached the UEFA Cup quarterfinals, beating powerhouses like Chelsea and Parma along the way. After his stellar performance Bachar was signed by the Spanish team, Racing Santandar. During the 2002-03 season, however, Bachar mostly sat on the bench. He now plays for S.C Ashdod in the Israeli Premier League. He has also played for the Israeli national team, but had limited opportunities.
---
Source: Jews in Sports