I. Lewis "Scooter" Libby Jr.
(1950 - )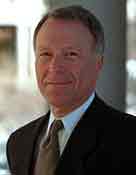 I. Lewis "Scooter" Libby Jr. is the former Chief of Staff to Vice President Dick Cheney and presidential advisor. He was one of the central figures in the Valerie Plame affair, in which a senior Bush administration official "outed" CIA agent Valerie Plame, thereby blowing her cover and her identity, which was designated as classified. The uncovering of a covert agent's identity is a serious national security concern, and it is illegal to reveal the name of any CIA agent undercover. Libby was believed to have lied to federal authorities, which in turn hindered a grand jury investigation into the affair. Due to these allegations, Libby resigned his position on October 28, 2005, after he was indicted on a number of criminal felony charges, including obstruction of justice and perjury.
Libby was born in Connecticut and raised in Florida. He received his B.A. from Yale University in 1972, and his J.D. from Columbia University Law School. He began his career in the government at the U.S. Department of State in 1981. He has also held positions at the American Bar Association, the RAND Corporation, and the defense contractor Northrop Grumman. Libby and his wife Harriet Grant along with their two children currently live in McLean, Virginia.
---
Sources: Wikipedia; Photo Courtesy of the White House