Henri Moissan
(1852 - 1907)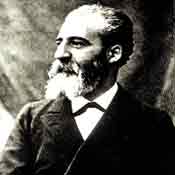 Henri Moissan was born on September 8, 1852, in Paris, France. He worked in the laboratory at the Museum of Natural History and the School of Pharmacy in Paris. Afterward, Moissan became a professor of toxicology in 1886 and inorganic chemistry in 1889 at the School of Pharmacy. It was during this time that Moissan began researching fluorine compounds. In 1886, he isolated the reactive gas fluorine and studied its behaviors with other elements. In 1900, he published his studies in, Le Fluor et ses composés ("Fluorine and Its Compounds).
Moissan continued his studies with inorganic chemistry and, in 1892, he constructed the electric-arc furnace. This furnace was utilized to study and isolate many compounds formerly believed to be indissoluble. He published the studies in 1897 in the book, Le Four électrique ("The Electric Furnace"). Moissan is also believed to have synthesized diamonds by putting extreme pressure on the element carbon.
Moissan received the Nobel Prize for Chemistry in 1906, becoming the second Jew in history to win. Moissan was honored for his work in isolating the element fluorine and the development of the Mossman electric furnace. Shortly after receiving the award, Henri Moissan died unexpectedly in Paris on February 20, 1907.
Moissan died at the age of 54.
---
Sources: "Henri Moissan Biography"; Britannica; Wikipedia. Photo courtesy of Moissanite