Hassan Salameh
(1913-1948)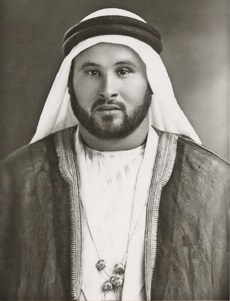 Hassan Salameh 1939
Hassan Salameh was born in the village of Qula in the Lydda district (not far from the city of Modi'in today) in 1913. From 1937 on, he participated in terror attacks during the Arab Revolt of 1936-1939 against British rule. He planned and led a number of successful operations against the British mandatory forces and the yishuv. These operations included blowing up railway tracks and electrical power poles, severing lines of communication, and burning Yishuv orchards. He was wounded during an attack on a train near Ramle on October 14, 1937.
After the failure of the revolt, Salameh escaped from Palestine to Iraq, where he joined the leader of the revolt, Hajj Amin al-Husseini. Salameh later fled to Berlin as part of the mufti's entourage. Salameh married a German and became a member of a special commando unit of the German foreign intelligence organization Amt VI. On October 6, 1944, German Intelligence parachuted a team of saboteurs composed of German and Arab agents near Jericho, in an operation code named ATLAS. The objective was to supply local Palestinian Arab resistance groups with resources and arms, and to direct sabotage activity primarily at Jewish (rather than British) targets. Some sources say the saboteurs planned, among other missions, to poison the springs in Rosh Ha'ayin, which delivered water to Tel Aviv; however, others have argued the poison was meant for collaborators. Part of the team was caught in a large manhunt conducted by the British security forces (led by the commander of the Jericho police, Faiz Bey al-Idrissi, the highest ranking Arab officer in the Palestine Police), but two managed to run away – Salameh and a German, originally from the German Templar community in Palestine named Deiniger.
On December 22, 1947, the superintendent of police in the Lydda district was asked by the district commissioner for information on Salameh, described as one of the two most active trouble-makers in the country at present (he doesn't mention who the other "trouble-maker" is). The British Criminal Investigation Department (CID) replied on December 30, sending a full brief on Salameh. One of the interesting facts contained in the brief is that in 1939, after escaping to Syria, Salameh offered his services to the British whom he had been fighting, but they declined his offer.
During the 1948 War, Salameh was the commander of a Palestinian military organization in the Lydda and Ramle area. On June 2, 1948, Salameh was killed while leading an attack against members of the Irgun who were holding the settlement of Rosh Ha'ayin.
Salameh's son, Ali Hassan Salameh, led the Black September organization, which conducted a series of murderous terror attacks against Israel. The most notorious of the operations was the attack and murder of Israeli athletes at the Munich Olympics in September 1972. In January 1979, Ali Hassan Salameh was assassinated in Beirut.
---
Sources: Israel State Archives
Wikipedia
Photo: Wikipedia