Haidar Abdul Shafi
(1919 - 2007)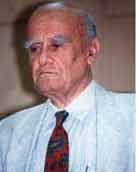 Haidar Abdul Shafi was a Palestinian political leader who headed the Palestinian delegation to the 1991 Madrid Peace Conference.
Shafi was born in Gaza and was an M.D. graduate from American University in Beirut in 1943. Shafi worked in the British Government Hospital of Jaffa after graduation and later served as medical officer in the Jordanian army. He returned to Gaza in 1945 and opened a private practice and became a member of the Arab Medical Society. From 1957 to 1960, Shafi was director for medical services in the Gaza Strip.
From 1962 to 1965, Shafi was head of the Gaza Parliament's Legislative Council  and he was a member of the first all-Palestinian conference convened in Jerusalem in 1964, which established the PLO. Shafiwas deported to southern Lebanon in 1970 for his involvement with PLO activities.
In 1972, Shafi founded the Palestinian Red Crescent Society in the Gaza Strip. In 1991, he headed the Palestinian delegation to the Madrid Conference and led the Palestinian negotiation team for 22 months during the Washington talks.
On April 8, 2007, Shafi was presented with the Palestinian Star of Honor by President Mahmoud Abbas for his role as founding member and President of the Palestinian National Initiative.
Shafi died from cancer in 2007, at age 88.
---