Witnesses to History: For Students of Kabbalah
Books and manuscripts in the Library's Hebraic Section bear witness to the role of Kabbalah, Jewish mysticism, in Jewish religious and cultural history. Consider an intriguing set of the first edition of Kabbalah's foremost classic, the Zohar, Mantua, 1558-60. Of this work, Hayim. Joseph David Azulai remarked, "Reading the Zohar is good for the soul, even if wrong and full of mistakes." Volume I of the Library's set belonged at one time to Abraham Joseph Graziano (d. 1684), rabbi of Modena, a halakic scholar criticized for his leniency, a popular poet, and a noted bibliophile. Graziano signed himself "Ish Ger" (stranger), the signature found on the title page. Of far greater importance are the many marginal notations in his hand throughout the volume. Graziano wrote a known commentary on the Shulhan Aruch; his comments on the Zohar now await scholarly attention. Volume 2, cut smaller in size, is printed on the blue paper often found in nineteenth-century books printed in Russia; to find it in a sixteenth-century book printed in Italy is very rare. Volume 3 has very wide unmarked margins which await the notations for which they were intended.
The owner's signature on the title page of this first edition of the Zohar, Mantua, 1558, is of Modena's seventeenth-century rabbi, Abraham Joseph Graziano, who signs himself Ish Ger (A stranger I was in the land). What makes this copy of unusual importance is that this noted scholar and bibliophile made copious notes on the wide margins of his copy (see photo below), Sefer ha-Zohar, 3 volumes, Mantua, 1558-60. Hebraic Section, Library of Congress Photo).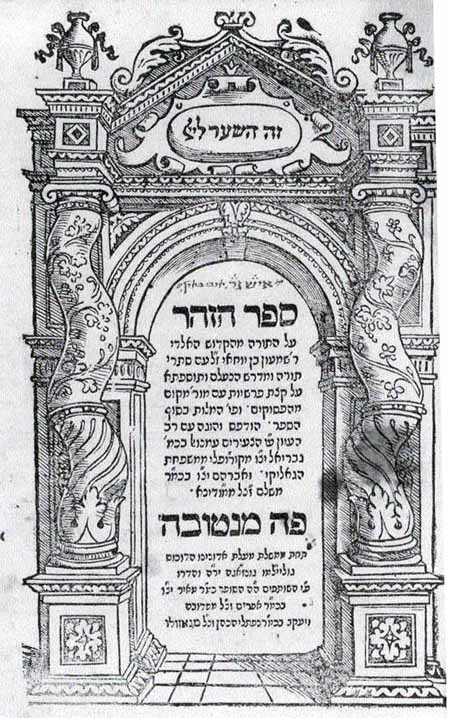 Kabbalistic symbols and illustrations await further study and interpretation of a visiting scholar. Two works rich in both are Shefa Tal, Hanau, 1612, by the "renowned skilled physician" of Prague, Shabbetai Sheftel Horowitz (c. 1561-1619). The Library's copy is in pristine condition, quite unusual for this much admired first edition of a popular Kabbalistic work. The Library's first edition, Amsterdam, 1701, of the oft-reprinted Sefer Raziel -- attributed by tradition to Adam! -- is filled with marginal annotations of an as yet unidentified commentator.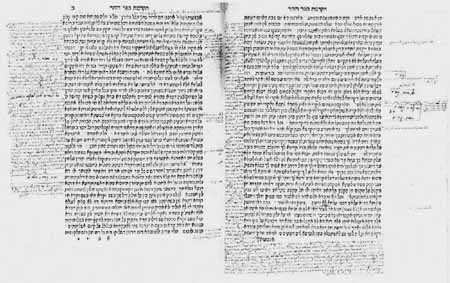 A one-hundred-page manuscript written in Vilna, 1817-18, is the commentary of Reb Elijah, the Gaon of Vilna, on a section of the Zohar, Sifra di-Zeni'uta (Book of Concealment). It antedates the first printing of this commentary in Vilna, 1820. Of interest to students of Kabbalah or of the Gaon of Vilna are paste-in insertions in the manuscript copy. For the bibliophile interested in provenance, the manuscript's first owner is known, Jacob ben Arye Katz, and those drawn to the unusual will note the presence in a manuscript copy of a censor's seal, that of Moshko Zeligovitch, 1837.
These hands are divided into twenty-eight sections, each containing a Hebrew letter. Twenty-eight, in Hebrew numbers, spells the word Koach = strength. At the bottom of the hand, the two letters on each hand combine to form YHWH, the name of God, Shefa Tal, Hanau, 1612. Hebraic Section, Library of Congress Photo).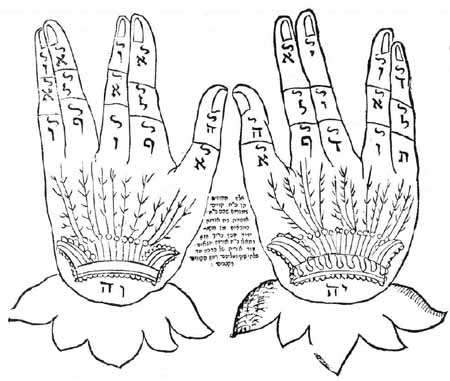 We see on one page a kabbalistic alphabet, on the other, kabbalistic figures to ward off evil, and a catalog of the names of angels. On both pages, kabbalistic marginal notes have been handwritten, Sefer Raziel, Amsterdam, 1701 (First Edition). 1612. Hebraic Section, Library of Congress Photo).

---
Sources: Abraham J. Karp, From the Ends of the Earth: Judaic Treasures of the Library of Congress, (DC: Library of Congress, 1991).