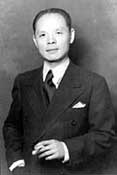 After Austria's annexation to Nazi Germany in March 1938, the 185,000 Jews there were subjected to a severe reign of terror, which resulted in intense pressure to leave the country. In order to do so, the Nazis required that Jews have entry visas or boat tickets to another country. However, the majority of the world's nations refused to budge from their restrictive immigration policies, a stance reaffirmed at the Evian Conference, in April 1938.

Unlike his fellow-diplomats, Ho Feng-Shan, who served as the Chinese consul-general in Vienna during 1938-1940, issued visas to Shanghai to all requesting them, even to those wishing to travel elsewhere but needing a visa to leave Nazi Germany.

Many of those helped by Ho did indeed reach Shanghai, either by boat from Italy or overland via the Soviet Union. Many others made use of their visas to reach alternate destinations, including Palestine, the Philippines, and elsewhere....

The rush for visas assumed panic proportions during and immediately after Kristallnacht, in November 1938, when thousands of Jews were thrown into concentration camps, only gaining release if their relatives produced visas or tickets for travel to other destinations. Gerda Gottfried Kraus, based in Canada, relates that after Kristallnacht, her husband waited in a long line for admittance into the Chinese consulate. Seeing a car approaching the consulate's gates, he thrust his application form through its window. "Apparently, the consul-general received it, because [my husband] then got a call and received the visas."

Ho refused to abide by the instructions of his superior, the Chinese ambassador in Berlin, Chen Jie. Chen Jie, hoping to cement closer ties between China and Germany, had forbidden Ho to issue visas on such a large scale, estimated to run into the hundreds, perhaps even thousands. Although visas were not required for entrance to Shanghai, such a document was, as noted, a prerequisite for Jews wishing to leave Nazi Germany. It is believed that the "demerit" which was entered in Ho's personal file, in 1939, at the Chinese Foreign Ministry was linked to his insubordinate behavior towards his immediate superior, the ambassador in Berlin, on the issue of the visas. After a long diplomatic career, Ho retired in 1973, and died in 1997, at the age of 96.

It was only after his passing that evidence by survivors who benefited from Ho's aid began to reach Yad Vashem. After carefully evaluating the case, the Commission for the Designation of the Righteous decided to award Feng-Shan Ho the title of Righteous Among the Nations for his humanitarian courage in issuing Chinese visas to Jews in Vienna in spite of orders from his superior to the contrary.

Ho was posthumously awarded the President's Citation Award from Taiwanese President Ma Ying-jeou, on September 12, 2015. Ho's daughter, Manli, accepted the award on his behalf. President Ma Ying-jeou stated that this honor was "long-delayed," and spoke of Ho's bravery at a dedication ceremony.
---
Sources: Yad Vashem;
Elis, Niv. "Taiwan awards "China's Schindler" Presidential honor," Jerusalem Post (September 13, 2015)