Fathi Shiqaqi
(1951 - 1995)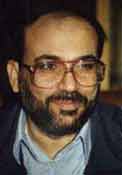 Born in 1951 in Gaza to a refugee family from Jaffa, Shiqaqi studied mathematics at Birzeit and medicine in Egypt (graduated in 1981). While training as a doctor in Egypt, he became inspired by the Muslim Brotherhood. 
He returned to the disputed territories and practiced medicine in Jerusalem. After he returned to Gaza, he and Sheikh Odeh founded Palestinian Islamic Jihad (PIJ) in 1981. Shiqaqi was arrested and sentenced to one year in prison in 1983 and to three years in 1986 for his political activities.
He was deported by Israel to South Lebanon in August 1988 and later relocated to the Yarmouk refugee camp, outside Damascus. He was a key player in setting up the National Alliance in January 1994, a coalition of eight PLO groups, Islamic Jihad, and Hamas that rejected the Oslo process and the peace deal with Israel.
Shiqaqi was believed to be responsible for some of the 1995 suicide bomb attacks in Israel. He was assassinated in Malta, apparently by Mossad agents, on October 26, 1995.
His funeral in Damascus on November 1, 1995, was attended by some 40,000 people.
---
Source: Palestine Facts