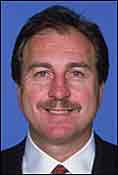 Ernie Grunfeld, currently the general manager of the Washington Wizards, is a Romanian-born Jewish child of Holocaust survivors. Born on April 24, 1955, in Romania, Ernie immigrated to the United States in 1964. In a July 2003 interview, Grunfeld described his family history saying, "my father was in a Romanian work camp, and my mother had spent the war in Budapest, in Hungary. She was not in a camp. She had false papers, and she was like most of the other Jews, living in basements and doing whatever else she could do to survive." After the war, the two, who had known each other before the war, married and Grunfeld was born a few years later.
Describing growing up Jewish in Romania, Grunfeld recalled, "We went to temple, and we were observant. As a kid, you remember the holidays. ... Yes, there was anti-Semitism. As a kid, you don't feel it the same way as adults. It was a communist country at the time. Obviously, being Jewish, there was only a certain level that someone could get to." The road to America was long - after registering to immigrate, they had to wait six years before they could actual travel to America. Once they were approved for immigration, they had to spend six months in Rome before they could get to America. He arrived in America just days before his ninth birthday, arriving in New York City on April 13, 1964. America was not the only place they were considering moving to. Grunfeld recalled, "Initially, we were going to immigrate to Israel but my father thought there were some great opportunities here, for him, in the United States, and for our family in the United States."
Once in America he encountered no anti-Semitism and described his ritual observance as "probably the same." He recalled, "I went to Hebrew school and I became a bar mitzvah. I went to temple on the holidays, and I fasted. We were observant." While in America, Ernie discovered basketball and became an All-American player in his senior year. He was also the only high school student selected for the starting five in the 1973 US Maccabiah basketball team. While at the University of Tennessee, he became the school's all-time leading scorer and went to synagogue on the holidays in a small Jewish community. He rejoined the Maccabi Union summer team in 1975 and, the same year he became a US citizen, in 1976 he won the gold medal as part of the 1976 US Olympic basketball team.
Grunfeld was an NBA player for nine years, playing for the Milwaukee Bucks, the Kansas City Kings, and then finally settling in with the New York Knicks. After retiring from playing, he served as an assistant coach for the Knicks before being promoted to director of administration. After 17 seasons with the Knicks, he was named General Manager of the Milwaukee Bucks. After eight seasons with the Bucks, in August 1999, he moved to Washington to serve as the President of Basketball Operations for the Washington Wizards. Grunfeld is widely regarded as one of the top executives in the NBA. He is married with two children.
---
Sources: Washington Jewish Week, NBA; Photo courtesy of the Washington Wizards