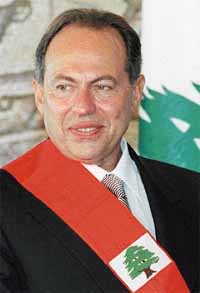 General Emile Lahoud, 62-year-old commander of the Lebanese armed forces, has been elected to serve as Lebanon's next president, generating enthusiasm and renewed hope for a strong and united country. Although the presidency may have shed some of its power to the cabinet as outlined in the 1989 Taif agreement, Lahoud's ascendancy is nevertheless a tremendous achievement -- both for him personally and for Lebanon itself -- continuing a 55-year-old sociopolitical and electoral tradition of fostering national unity. The Lebanese constitution calls for the selection of a Maronite Christian president, a Sunni Muslim prime minister, and a Shiite Muslim speaker of the Parliament. Lahoud's rise has already stirred optimism both at home and throughout the region. In early October, investors exhibited their confidence in Lebanon's political future with their rush towards Lebanese-pound-denominated treasury bills, versus U.S. dollars.
Throughout his career, General Lahoud has demonstrated high levels of competence and integrity. In 1988, he was elevated from rear-admiral to general and appointed army commander, heading the Lebanese air force, navy, and ground forces. Following the 1975-1990 civil war, Lahoud was responsible for rebuilding the fractured 55,000-strong Lebanese army, and has been credited with ending the reign of militias which plagued the country during the war. This accomplishment was a manifestation of Lahoud's vision of uniting the divided people of Lebanon, getting the Lebanese people to set aside their sectarian differences and begin acknowledging and appreciating a shared national identity. Lahoud's program of 'nation-building' has been facilitated through his rendering a year's military service compulsory for all Lebanese. Through intense interaction, Lahoud intends for Druze, Maronite, Shiite, Sunni and others to learn normal coexistence and solidarity.
Lahoud's election, secured by the votes of 118 of the 128-member Lebanese Parliament, has been warmly received across sectarian lines. Prominent business-leaders, opposition politicians, religious figures, the head of Hezbollah's political council and even rival presidential candidates have expressed their enthusiastic support. The new president is known to have a proper working relationship with Prime Minister Rafik Hariri and a very warm relationship with House Speaker Nabih Berri. Hariri has expressed his confidence in Lahoud's qualifications, and Berri has indicated his belief that the President would be an honest arbiter between state institutions.
Lebanon's Christian community, which in recent years has experienced a profound ebb in influence and morale, is particularly pleased with this outcome, and Maronite Catholic Patriarch Nasrallah Sfeir has called the President a "clean, disciplined" individual with "sharp patriotic sentiment". The Mufti of Lebanon, Sheikh Mohammed Rashid Qabbani, has lauded the "wisdom" of the Lebanese people for having chosen General Lahoud as their president. One prominent business-leader has referred to President Lahoud as "the right man, with the right values, and the right background" for the job, and spoke of him as "a man of institutions with a high level of respect for the law."
Regional and international leaders have also expressed their respect for Lahoud. While not considered anyone's proxy, Lahoud is expected to work closely with Syria, maintaining a consolidated position vis-à-vis Israel. Syrian Vice President Abdel Halim Khaddam has praised Lahoud's views on national Arab issues, and one American heavily engaged in Middle East affairs has commented that "one cannot imagine a better choice under the circumstances."
---
Sources: Middle East Insight, Reprinted with Permission.