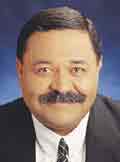 Eli Aflalo is an Israeli politician who served as a member of Knesset until 2012.
Aflalo (born September 9, 1951) was born in Casablanca, Morocco and immigrated to Israel in 1962. He completed his army service with the rank of staff sergeant.
Elected to the 16th Knesset in 2003, he served as a member of the Finance and Internal Affairs and Environment Committees.
In March 2005, Aflalo was appointed Deputy Minister of Industry and Trade and from 2008 to 2009, Aflalo served as Minister of Immigrant Absorption. Aflalo left the Knesset in 2012 to become co-chairman of the Jewish National Fund.
He has three children.
---
Sources: Israeli Ministry of Foreign Affairs