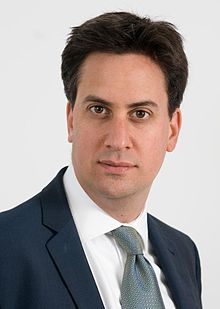 Edward Samuel Miliband is a British Labour politician who has been the Member of Parliament (MP) for Doncaster North since 2005 and served in the Cabinet from 2007 to 2010, first as the Minister for the Cabinet Office and Chancellor of the Duchy of Lancaster, and then as Secretary of State for Energy and Climate Change. He is of Polish Jewish descent, son of the late Marxist theorist Ralph Miliband and Marion Kozak, a Polish Jew who survived the Holocaust because of the help of some Polish people.
Ed is the younger brother of David Miliband, the former Foreign Secretary. Together the two were the first siblings to sit in Cabinet simultaneously since Edward, Lord Stanley and his brother Oliver in 1938.
After graduating from Oxford University and the London School of Economics, Miliband became a Labour Party researcher and rose to become one of Chancellor Gordon Brown's confidants, being appointed Chairman of HM Treasury's Council of Economic Advisers. Miliband was elected Labour Member of Parliament for the South Yorkshire constituency of Doncaster North in the 2005 general election. As Prime Minister, Brown appointed Miliband Chancellor of the Duchy of Lancaster and Minister for the Cabinet Office in his first Cabinet on June 28, 2007. Miliband subsequently served as Secretary of State at the newly created Department of Energy and Climate Change from October 3, 2008 to May 11, 2010.

On May 14, 2010, submitted his candidacy for the Leadership of the Labour Party after Gordon Brown's resignation. The other contenders for the leadership were Ed Balls, Andy Burnham, Diane Abbott, and Ed's brother David. Despite being from the same family, Ed has traditionally aligned with Prime Minister Gordon Brown, while David is a close confidant of former Prime Minister Tony Blair.
Since September 2010, Ed has served as Leader of the Opposition and of the Labour Party in David Cameron's government.
In 2014, Miliband visited Israel and spoke to Israeli students at Hebrew University in Jerusalem. He described his identity as culturally Jewish, highlighting that his mother and father were Jewish refugees. He spoke of his first visit to Israel when he was seven to visit his grandmother, and about his deep gratitude for the country that gave her refuge after her husband was murdered in a concentration camp. Miliband did not overtly describe whether he was a Zionist despite repeated questioning, and said that "Israel for me is the homeland is the Jewish people and the reason is because it is not just a theoretical idea for me, it's my family's experience. That's the way I like to talk about it."
---
Sources: Wikipedia, The Guardian (April 10, 2014)