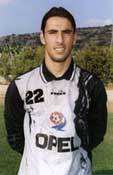 Dudu Awat began his career with Nazareth, but moved to Maccabi Haifa at an early age and was put behind Nir Davidovic as the leading goalkeeping prospect in the organization. Offended by this placement, Awat moved to Maccabi Tel Aviv but was again underplayed. He then transferred to Hapoel Haifa, under the impression that he would finally start, but he was demoted again. Early in the 1998-99 season, however, the regular goalie was injured, and Awat took his place. Hapoel won the championship that year, and Dudu performed very well as a goalie. By the time the original goalie, Avi Peretz, recovered, Awat was irreplaceable.
Awat was called up to the national team, but only as a replacement for another player. In 2002, Awat returned to Maccabi Haifa as a cover for another seriously injured player. They won the championship, and Awat will be the goalie for them again this term. Awat has performed fabulously on the national team and is considered by many the leading goalkeeper in the country.
During the 2002-03 season, Awat was a goalie for Maccabi Haifa as they played in the Champions League, the first time an Israeli squad made it to the group stage of the competition. Haifa finished in third place in their group following a historic victory over powerhouse Manchester United. In the Israel League, Haifa finished in second place.
On July 17, 2003, Awat signed with the Spanish Racing Santander. A French citizen, Awat joins Israeli Yossi Benayoun in the squad. Benayoun said, "Dudu is a very good keeper and an excellent friend, who will prove to be a great addition to our squad..."
---
Source: Jews in Sports