David Rudenstine
(1942 - )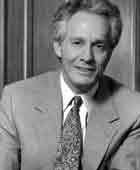 What makes a good lawyer? As David Rudenstine, [former] dean of Yeshiva University's Benjamin N. Cardozo School of Law, prepares to answer this question, he settles himself comfortably into his armchair. Then he leans forward to pull the listener into his space as he matter-of-factly presents the attributes, point by point.
"A first-rate education. Secondly, the innate capacity to think imaginatively, creatively and analytically. Third, a strong ethical background, which functions not just to keep the lawyer honest, but, in a broader sense, of being alive to public issues involving public values and shaping a career tinged with public spiritedness. And lastly, a commitment to using some portion of his or her professional energy to advance the public good."
Lawyers — good lawyers, like the ones Cardozo graduates — are essential to a smoothly running democratic society, where the peoples' legal rights all exist in a delicate balance protected by a power system of checks and balances, he declares. "America has a complicated constitutional scheme, which respects the majority while at the same time limiting the majority in the name of the minority," he says. "You also have a legal balance of power among the various branches of government. And we place great emphasis on our freedoms."
He pauses, just long enough to build suspense, before he continues to make his case. "You can't have that complicated society without lawyers," he argues. "Lawyers are a prerequisite to having such a liberal constitutional democracy. Lawyers play a very prominent role in helping the public understand the complicated nature of all these entanglements. Lawyers are major conductors of our national conversation about these matters. As often as people have complaints about lawyers, we would miss them enormously if they were not in our midst all the time shaping policy, being visionaries and helping us all understand what is important in these public disputes."
And Cardozo, he says, is playing a significant and prominent role in shaping the country's future lawyers by recruiting first-rate faculty members and students. With 8,500 alumni in 44 states, the school, which was named for the U.S. Supreme Court justice who succeeded Oliver Wendell Holmes and which was founded in 1976, has more than its share of notable graduates, who, in addition to partners at major law firms, judges, and public defenders and prosecutors, include Jeff Marx, who wrote the lyrics for the Tony-winning Broadway musical Avenue Q; Sandra J. Feuerstein, who is a federal district court judge in Manhattan; Randi Weingarten, the president of the United Federation of Teachers, and conservative CNN commentator Barbara Olson, who died in the 9/11 plane that was hijacked and crashed into the Pentagon. The nationally acclaimed faculty includes the top constitutional scholar in law and religion, one who is the leading authority on asbestos litigation and tort reform, as well as O. J. Simpson defense lawyer Barry Scheck.
Rudenstine ticks off the school's latest accomplishments with the precision of a Swiss watch:
• The $40-million renovation of the school's Greenwich Village campus, which includes its first dormitory, a revamped library, a new world-class conference center, a state-of-the-art moot courtroom and a lobby, which he declares is "the most beautiful public space" on lower Fifth Avenue.
• The effort to recruit a geographically and ethnically diverse student body: 21.8% of the class of 2007 is of color, and the percentage of out-of-state students rose from 47% in 2003 to 60% in 2004. Students from 35 states and five countries are represented in the class that enrolled in fall 2004. "Having students from all over the country brings different perspectives and it makes the classroom experience more exciting," he says.
• The recruitment of higher-achieving students: The median LSAT test score increased by two points in 2004 to 164. "The top quarter of the new class scored in the top 5% of all test takers," Rudenstine says. "I've told our admissions department that I want to find people who will make a difference in American life. I want to find students who will use their legal education to have an impact on their community—in law, in life, in politics and in art. Cardozo students should have the fire in their bellies to rise above the normal hum and manage to have their voices heard."
• The recruitment of top-notch faculty: "The Cardozo faculty is the driving force that has made the school great," Rudenstine effuses. "Cardozo is rated as having one of the strongest faculties in the country."
• The establishment of a host of new educational programs. Under Rudenstine, Cardozo recently has added programs or clinics in family law and bioethics; Holocaust, genocide and human rights studies; Jewish law and interdisciplinary studies. "We may be the only law school in the country to have a genocide clinic," he says. "What sets us apart is that we offer students a balance between the practical and the theoretical. Cardozo has a special intellectual and distinctive personality. We offer a variety of clinics—on criminal law; on tax law; on securities arbitration; on mediation and arbitration, as well as others, and we have a substantial commitment to legal theory and the role the legal profession plays in larger social issues."
• The establishment of a new Center for Public Service Law, the inauguration of a public-service scholarship program and the strengthening of summer stipends for students taking unpaid public-service jobs.
But this is only the beginning for the new Cardozo, Rudenstine says, adding that he wants to add more faculty and increase financial aid to students. "Few people realize how many law students are deeply in debt by the time they graduate. The class of 2003, which had 303 students, borrowed a staggering $20 million; that adds up to an average debt of $85,000 per person. A beginning public-service lawyer earns about $37,000. You couldn't take that job if you had $85,000 in debt, so we want to enhance our loan-forgiveness program for those who want to go into public service."
The 63-year-old Rudenstine, who is marking a quarter-century at Cardozo, knows firsthand about commitment to public service. With a bachelor's and a master's degree from Yale University and a law degree from New York University, he became interested in the law in the civil rights era when he "saw the important role that lawyers played in the social and political changes in American life. I admired what they did; it touched something deep inside me that I didn't fully understand at the time."
In 1962, before the civil rights riots tore the country apart, Rudenstine, a history major at Yale, taught school in Prince Edward County, Virginia, where officials used the desegregation doctrine of "separate but equal" to close the schools—equally—to blacks and whites rather than integrate them as the law dictated. "The white children went to private schools, the black children were without schools," Rudenstine recalls. "Ten or 12 of us from East Coast colleges went down to run freedom schools. When I was down there, I witnessed firsthand the important roles lawyers played in shaping the strategies for what was to be done. I was truly inspired by them."
After he graduated with a degree in teaching, he signed up for the U.S. Peace Corps, where he taught high school students in Uganda in 1965 and 1966. "It was then that I decided that I really wanted to use the law to bring about social and political change."
It was a summer fellowship at the national headquarters of the American Civil Liberties Union that put him on the career path that led him to Cardozo. "I yearned to do something that had an immediate and direct impact," he says. "And courts issuing orders, basically helping to restructure events on the dime, was what attracted me."
His next job was at Mobilization for Youth, a national program started during the Johnson administration that provided free legal services to the indigent. For the next 10 years, he practiced public-interest law with a variety of organizations. "I had an itching to do cases that would have a broader impact. In the trade, they are called class-action cases."
During a stint with Community Action Legal Services, he was tapped to lead a study of the New York State parole system, instigated after the notorious 1971 Attica prison riots, which left 43 people dead. A subsequent report on the riot, the bloodiest jail confrontation in American history, found that the parole system contributed to the uprising. After writing the book Prison Without Walls, Rudenstine realized that he wanted to help put into effect the changes he had recommended, so he set up a litigation project about parole through the New York Civil Liberties Union.
After a series of jobs with that group, including being named acting director, Rudenstine turned to teaching, taking a job with Cardozo in 1979 and becoming dean in 2001.
For the last 25 years, his positions at Cardozo have allowed him to meld his love of research—he has written on a kaleidoscopic array of topics, from the Elgin Marbles to the Pentagon Papers—and public service. But regardless of what he studies, he always comes back to the love of the law.
"American life is stronger with the involvement of lawyers in it," Rudenstine maintains. "While we all have an obligation to ourselves and our families to live a strong and vibrant private life, lawyers, because they have such special authority in our society, have a heavy burden to find ways to contribute to the public good."
---
Sources: Lifestyles