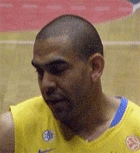 David Blu (formerly Bluthenthal, born July 18, 1980) is a Jewish American-Israeli professional basketball player currently with Maccabi Tel Aviv in the Euroleague.
The son of a Jewish mother and an African-American father who converted to Judaism, Blu was born and raised up in Los Angeles wanting to play at UCLA, but his father convinced him to attend USC. After a mediocre freshman year, Blu became a surprise of the 1999-2000 Pac-10 season when he started 29 of 30 games at small forward and was named All-Pac-10 honorable mention due his statistics which ranked him third best in the conference.
During that season, Blu also tied the school's single-game rebounding record with 28 rebounds (against Arizona State), and his season total of 250 rebounds ranked him 14th all-time in USC history. David was also the Trojans' leading free throw shooter, making 74 of 88 (.841, fifth best in the Pac-10 and fifth best in USC history). It was during the conference season that he excelled, becoming the first player in Pac-10 history to lead the league in rebounding and free throw shooting in conference games. Blu had an outstanding 2001 NCAA Tournament and led the Trojans to their first Elite Eight appearance since 1954.
In his senior season, Blu was named All-Pac 10 honorable mention.
After graduating from USC, Blu joined Israeli powerhouse Maccabi Tel Aviv in the Euroleague. During the 2002-03 season, Maccabi won the Israel League title and finished fifth in their group stage before reaching the league's playoff quarterfinals.
On August 7, 2004, Blu was signed by the Sacramento Kings but was quickly released that same November and he returned to Israel and rejoined Maccabi Tel Aviv. That year, Maccabi won its fouth European Cup, defeating Skipper Bologna in the finals.
In the following years, Blu skipped around to various teams and leagues throughout Europe, playing for stints in Russia, Italy and France. In 2009 he returned once again to Israel and, as of 2011, is still part of the Maccabi Tel Aviv team.
A member of the U.S. basketball team at the 1997 Maccabiah Games, Bluthenthal said, "I really fell in love with Israel and decided to play here if I couldn't make it to the NBA. I figured as long as I'm coming here, it would be good to play for Maccabi Tel Aviv because they are the best." Maccabi Tel Aviv coach David Blatt said of his new player, "It's hard to find a better outside shooter...it was impossible to turn down a player like David who has the potential to be an impact player and have a lifetime career at Maccabi..."
---
Sources: Wikipedia, Jews in Sports