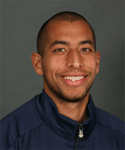 David Banks is a competitive rower who has represented Team USA at the 2008 Beijing and 2012 London Games.
Banks (born August 30, 1983) was born in Washington, DC as one of three children to a Jewish mother and African-American father. Banks was raised in Potomac, Maryland.
A track and basketball athlete in high school, Banks showed up to Stanford University in California as a freshman with no knowledge of rowing. After a friend of his from the dorm told him about it, he went to an informational meeting, as well as a practice. He took to the sport right away. "It was sort of unexpected," he said. "Rowing is a simple sport, and I didn't have to think about it too much." Coach Craig Amerkhanian recalls David's first day, "He showed up in a faded blue t-shirt with the arms cut-off from Churchill basketball team with 'Banks' on the back and underneath, the words 'Dedication, Discipline, Desire.' He was one of the skinniest, smallest guys on the team, and the rest is history."
Banks graduated from Stanford in 2005 with a degree in Urban Studies, and decided to enroll at Princeton for a one-year graduate program in Construction Management. "I like construction," he said. "I like the hands-on aspect. I'd love to something with that or in urban development and planning someday."
Banks made his first national team, and his Olympic Debut, in 2008 at the Beijing Games where his crew finished in ninth place. That same crew won bronze at the 2008 World Cup in Lucerne. Since then, Banks has won bronze in the pair in the 2009 World Cup in Lucerne. He finished fifth that year in the pair at the World Rowing Championships. He was on the eight boat that finished sixth at both the 2010 World Cup and World Rowing Championships.
Because his eight won the 2012 Final Olympic Qualification Regatta, Banks rowed on that same boat in the 2012 London Games. At the 2012 Olympics, he competed in two events: the Men's Eight Heats and the Men's Eight Final. In the first event, Banks and his teammates ranked in first place at 5:30.72 and in the final, they came in fourth place with a time of 5:51.48.
---
Sources: NBC Olympics; Stanford Voice of Champions; Sports Illustrated