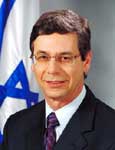 Daniel Ayalon has played an instrumental role in Israel's foreign policy during the last three consecutive Israeli Administrations. Prior to his appointment as Ambassador to the United States, Daniel Ayalon was the Foreign Policy Adviser to Prime Minister Ariel Sharon.
From 1997-2001, Ambassador Ayalon was the Deputy Foreign Policy Adviser to former Prime Ministers Ehud Barak and Benjamin Netanyahu, during which time he was a member of the Israeli delegations to the Sharm El-Sheikh (1997), Wye Plantation (1998) and Camp David (2000) summits.
Ambassador Ayalon served in New York from 1993-1997 as the Director of the Bureau of Israel's Ambassador to the UN, at which time he was a member of the Israeli Delegation to the UN and Israel's representative on the General Assembly's Committee for Peace Keeping Operations and the UN Development Fund (UNDP).
As a professional Foreign Service diplomat, Ambassador Ayalon's pervious diplomatic missions abroad have included Panama, where he was responsible for political, economic, media and cultural ties between Panama and Israel.
After finishing his stint as ambassador to the United States in November 2006, Ayalon returned to Israel and became co-chairman of Nefesh B'Nefesh, an organization that promotes aliyah and assists immigrants moving to Israel.
In 2008, Ayalon joined the Israeli political party Yisrael Beiteinu as its world chairman and was elected in February 2009, and was an MK from then until December 2012, when he was not on the party's list of candidates.
Ambassador Ayalon, 47, is a native of Tel Aviv. He is a graduate of Tel Aviv University's Economics Department and holds an MBA from the University of Bowling Green in Ohio. Ambassador Ayalon is married with two children.
---
Sources: Israeli Embassy, Wikipedia