Charles Orde Wingate
(1903 - 1944)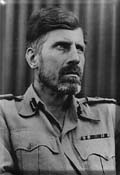 Born to a religious Christian family and a firm believer in the Bible, Orde Wingate passionately embraced the prophetic vision of Jewish redemption and the Jews' ultimate return to Eretz Yisrael. During his service in Eretz Yisrael, he worked to help realize that ideal.
The son of a British officer, Wingate was born in India, received a military education, and was commissioned in 1923. He served in India and then in the Sudan, where he studied Arabic and Semitics, and acquired a familiarity with the Middle East. Wingate was recognized as a talented officer, and by 1936 he had earned the rank of captain. That same year he was transferred to Eretz Yisrael, and served there for the next three years.
Wingate arrived in Eretz Yisrael as an intelligence officer at a time when small bands of Arab rioters were regularly attacking both the British and the Jews. To counter this offensive, Wingate organized and trained "Special Night Squads," comprised primarily of Haganah fighters, which were successfully employed throughout the Yishuv. Their tactics were based on the strategic principles of surprise, mobility, and night attacks, and they served effectively both as defensive and offensive units, successfully pre-empting and resisting Arab attacks.
Wingate maintained good contacts with the heads of the Yishuv and the Haganah. He learned Hebrew, and he demonstrated his ardent belief that the Jews were entitled to their homeland in Eretz Yisrael. He also recognized the need for a working military force, and he dreamed of heading the army of the future Jewish state. Because of his efforts and support, he was called in the Yishuv "ha-yedid," the friend.
Wingate's intense support for the Zionist viewpoint, however, was controversial, and in 1939 the British succumbed to Arab pressure and transferred Wingate from Eretz Yisrael. His passport was stamped with the restriction that he not be allowed to re-enter the country. His personal involvement with the Zionist cause was thus curtailed, but many of those he trained became heads of the Palmach and, later, the Israel Defense Forces.
Wingate returned briefly to Great Britain, but, recognized for his military talent, he was transferred to further active duty. In 1941, he led the force in Ethiopia against the Italians and was a major figure in liberating the country. He then worked in Burma, organizing and training the Chindits, a special jungle unit that operated behind Japanese lines. Wingate was killed in an airplane crash in Burma on March 24, 1944, and is buried in Arlington National Cemetery in Virginia.
Wingate's friendship for the Yishuv and his contributions to its defense have been recognized through the several places in Israel named for him, including the College of Physical Education near Netanya.
---
Source: The Pedagogic Center, The Department for Jewish Zionist Education, The Jewish Agency for Israel, (c) 1997, 1998, 1999, 2000, Director: Dr. Motti Friedman, Webmaster: Esther Carciente