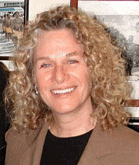 Carole King (born February 9, 1942) is a Jewish American singer and songwriter, most active as a singer during the early to mid 1970s, but a successful songwriter for considerably longer both before and after this period.
Born in 1942 in Brooklyn, New York, Carol Klein (as she was then known) started out playing the piano and then moved on to singing, forming a vocal quartet called the Co-Sines in high school. While attending Queens College, King befriended Paul Simon, Neil Sedaka and Gerry Goffin.
Goffin and King soon formed a songwriting partnership, eventually marrying, working in the famous Brill Building, where chart-topping hits were churned out during the 1960s. The Goffin-King partnership first hit it big with "Will You Love Me Tomorrow", which topped the charts when released by the Shirelles in 1961; it was later covered by Dusty Springfield. Future hits written by the pair include: "Take Good Care of My Baby" (Bobby Vee), "The Loco-Motion" (Little Eva and later remade Grand Funk Railroad and Kylie Minogue), "One Fine Day" (The Chiffons), "Pleasant Valley Sunday" (The Monkees), "Up on the Roof" (The Drifters and later James Taylor), "Chains" (The Cookies and later The Beatles), "(You Make Me Feel Like) A Natural Woman" (Aretha Franklin) and "He Hit Me (and It Felt Like a Kiss)" (The Crystals). She had a modest hit singing one of her own songs in 1962 with "It Might As Well Rain Until September." The pair had a daughter, Louise Goffin, who is also a singer.
After failing several times at beginning a solo career, King eventually helped found a record label, Tomorrow Records, divorced Goffin and married Charles Larkey (of the Myddle Class). Moving to the West Coast, Larkey, King and Danny Kortchmar formed a group called The City, which released one album, Now That Everything's Been Said but the album was a commercial failure. King then released Writer (1970), another disastrous failure, followed by Tapestry (1971), her best known and most well-received album. One of the critical albums of the singer-songwriter genre of the early 1970s, Tapestry remains her most popular album among fans and critics, and has sold over 10 million copies. Music (1971), Rhymes and Reasons (1972) and Wrap Around Joy (1974) followed, each selling respectably.
Goffin and King reunited to write Thoroughbred (1975) with David Crosby, Graham Nash and James Taylor, a long-time friend of King's. She married another songwriting partner, Rick Evers, after releasing Simple Things (1977); he died of a heroin overdose one year later.
Retiring to Idaho, King became an environmental activist after releasing a collection called Speeding Time in 1983. She returned to music in 1989, recording City Streets, followed by Color of Your Dreams (1993), with a guest appearance by Slash of Guns n' Roses.
King is very politically active in the United States Democratic Party. In 2003, she began campaigning for John Kerry, first in the Democratic primaries and then, after he won those, in the general election. On July 29, 2004, she made a short speech and sang at the Democratic National Convention, about two hours before Kerry made his acceptance speech for the Democratic nomination for President.
In December 2012, King received a star on the Hollywood Walk of Fame in Los Angeles.
---
Sources: Wikipedia