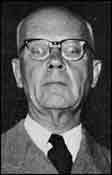 Carl Oberg was born in Hamburg, Germany in 1897. He joined the German Army and served in the First World War. After the war he joined the Freikorps and took part in the Kapp Putsch in 1920.
Oberg worked for a tropical-fruit trading company before enduring a long period of unemployment. In 1930 he acquired a tobacco stand in Hamburg.
Oberg joined the Nazi Party (NSDAP) and in 1932 he went to Munich where he worked with Reinhard Heydrich. He eventually became Heydrich's right-hand man in the SD Security Service.
In 1938 Oberg was given command of an SS (Schutzstaffel) battalion in Mecklenburg. The following year he became chief of police in Zwickau.
On the outbreak of the Second World War Oberg went to Poland and became SS and Police Leader in the Radom district where he was responsible for rounding up Jews and the drafting of Poles for forced labour.
In March 1942, Oberg was promoted to SS-Brigadeführer and two months later was posted to Paris where he became SS and Police Leader in occupied France. In this position he brought in severe measures to deal with the French Resistance including the shooting of hostages. Oberg was also responsible for applying the Final Solution in France. This action resulted in 75,000 Jews being deported from France to extermination camps in Nazi Germany and Poland.
Oberg was promoted to SS-Obergruppenführer and police general in August 1944. Later that year, Oberg was posted to the command of a military unit that was part of an army formation commanded by Heinrich Himmler.
In June 1945, Oberg was arrested by Allied troops. The following year he was extradited to France where he was brought to trial. Convicted of war crimes, Oberg was sentenced to death on October 9, 1954. After an appeal, this was reduced to life imprisonment.
President Charles De Gaulle granted Oberg a pardon in 1965. Carl Oberg died later that year in Germany.
---
Sources: Spartacus Eduational