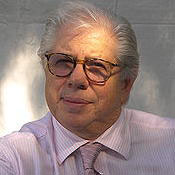 Carl Bernstein is a Jewish American journalist who, as a reporter for The Washington Post along with Bob Woodward, broke the story of the Watergate break-in and consequently helped bring about the resignation of United States President Richard Nixon. For his role in breaking the scandal, Bernstein received many awards; his work helped earn the Post a Pulitzer Prize for Public Service in 1973.
Bernstein played an integral role in his partnership with Bob Woodward during the Watergate scandal. Bernstein was the first to suspect that Nixon played a part, and Bernstein found the laundered check that linked Nixon to the burglary.
Bernstein graduated from Montgomery Blair High School in Silver Spring, Maryland. He subsequently attended the University of Maryland, College Park. Bernstein is a lifetime member of B'nai Brith and once was President of B'nai Brith's Northern Region.
Bernstein quit The Washington Post in 1976.
He then worked as the Washington Bureau Chief and as a senior correspondent for ABC News, taught at New York University, and contributed to Time. Bernstein authored two books with Bob Woodward: All the President's Men, which details the successes and failures of their journalistic efforts against the backdrop of the unfolding scandal, and The Final Days, a recounting of the concluding months of the Nixon presidency.
Bernstein met Margaret Jay, daughter of a British Prime Minister and wife of politician Peter Jay, while her father was serving as UK ambassador to the United States; Bernstein had a much-publicized extramarital relationship in 1979 with Margaret. Bernstein and his second wife, screenwriter Nora Ephron, had an infant son, Jacob, and Ephron was pregnant with her second son, Max., in 1980 when she found out the news of Bernstein's affair with Jay. Writer Ephron was inspired by the events to write the 1983 novel Heartburn, which was made into a 1986 film starring Jack Nicholson and Meryl Streep.
Bernstein then became known for dating Bianca Jagger, Martha Stewart and Elizabeth Taylor.
He co-authored the book His Holiness: John Paul II & the History of Our Time with Marco Politi. Following the May 2005 revelation of the identity of Deep Throat, Bernstein contributed to Woodward's book The Secret Man, which deals with Woodward's relationship with Mark Felt. In April 2006, Bernstein published an article in Vanity Fair magazine, where he is a contributing editor, calling for a Senate investigation into the presidency of George W. Bush.
Bernstein wrote a memoir of his parents' struggle to prove their innocence during the McCarthy era. He has also written a biography of Hillary Rodham Clinton, A Woman In Charge: The Life of Hillary Rodham Clinton, published by Alfred A. Knopf on June 5, 2007.
He lives in New York.
---
Sources: Wikipedia