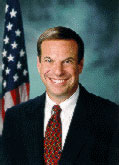 Robert Earl "Bob" Filner is a Jewish American politician who served in the U.S. Congress and as mayor of San Diego.
Filner (born September 4, 1942) was born in Pittsburgh, Pennsylvania and raised in New York City. He earned a Bachelor's Degree in Chemistry from Cornell University in 1963, a Master's Degree in History from the University of Delaware in 1969 and a Doctorate in the History of Science from Cornell University in 1973.
Filner's first elected office was as a San Diego School Board Member, serving from 1979 to 1983. Although Filner was the only Democrat on the Board, his colleagues elected him Board President in 1982.
From 1987 to 1992, Filner served on the San Diego City Council, winning re-election in 1991 with more than 70 percent of the vote. That same year, he served as Deputy Mayor of San Diego.
In 1992, Filner was elected to the U.S. House of Representatives from California's 50th District and was immediately named to the Committee on Transportation and Infrastructure and the Committee on Veterans' Affairs. He was reelected five times from the 50th District and then served an additional five terms in the House of Representatives from California's 51st Disctrict.
In June 2011, Filner announced that he would run in the San Diego mayoral race and would not seek reelection for his Congressional seat. In the November 2012 runoff election, Filner defeated San Diego city councilmember Carl DeMaio and became San Diego's first Democrat mayor since 1992 and only its second since 1971.
On July 11, 2013, three of Filner's supporters called for the mayor's resignation due to a number of unspecified but "credible" allegations that he had sexually harassed women, including "inappropriate comments, kissing and groping." Later that day, Filner released a video statement in which he apologized for his behavior and promised to seek professional help to change his behavior. Eleven days later, on July 22, a sexual harassment lawsuit was filed against Filner on behalf of the mayor's former communications director. On August 30, 2013, Filner officially signed a letter of resignation from his position as mayor. In October 2013, he pleaded guilty to three criminal counts filed against him.
Filner is divorced from his first wife, Barbara Filner, with whom he has two children. He later married and divorced Jane Merrill.
---
Sources: Congressman Bob Filner; Wikipedia