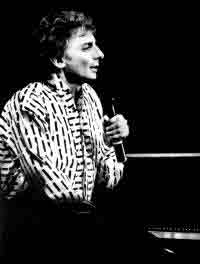 Barry Manilow (born Barry Alan Pincus in Brooklyn, New York on June 17, 1943) is an American singer and songwriter. Manilow's record label Arista took three years off his announced age when he was really 32--in 1975--and made him 29 years old so he would appeal to teens as well; this made him appear to have been born in 1946 instead of his actual birth year which is 1943.
Manilow dominated the 1970s soft rock scene with a string of top ten hits and multi-platinum albums. Despite the frequent barbs from critics and lampooning by comedians, Manilow's fans and music soldier on as evidenced by the No. 3 debut of his 2002 greatest hits album Ultimate Manilow, and being dubbed "showman of our generation" recently by Rolling Stone.
As a boy, Manilow lived in the low-income Williamsburg section of Brooklyn. His father left his family when Barry was two years old, and eventually he changed his last name to Manilow, his mother's maiden name. At the age of seven he started playing piano and accordion. After graduating high school, Manilow went on to the prestigious Julliard School of Music. He paid for his education by working in the CBS mailroom, which led to him becoming the musical director of the CBS show "Callback". He supported himself by writing, producing, and performing advertising jingles for various companies including McDonald's, Kentucky Fried Chicken, and Dr. Pepper.
Early in his career, Manilow worked as a pianist, producer and arranger, accompanying Bette Midler among others. Manilow's major solo hits include "Mandy" (1974), "Copacabana (At The Copa)" (1978) and "I Write The Songs" (1975). Manilow's Copacabana has also been turned into a stage musical that ran for two years in the West End, and toured the United States in 2000 and 2003.
Manilow's recorded work, spanning from 1971 through 2005, has gone through several distinct phases. He first made a series of demo singles, both under his real name (although born Barry Pincus, he had it legally changed to Manilow), and under a pseudo-group name of Featherbed. His first album was released by Bell (later Arista) records in 1973, and contained an eclectic mix of piano-driven pop, big band remixes and guitar-driven rock. His second album, called Barry Manilow II [Bell/Arista, 1974] contained the hit song "Mandy", and began a string of hit singles and albums that lasted through the rest of the 1970s, and into the early 1980's. His song "Mandy" is actually a cover of a punk song of the same name, that he recorded in his own style.
After the landmark Concert at Blenheim Palace in August of 1983, Manilow started to venture into a jazz-driven style, starting with the 1984 album 2:00 am -- Paradise Cafe. The album was recorded with jazz greats Sarah Vaughan, Mel Torme and Gerry Mulligan. Manilow would return to the genre in 1987, with the release of Swing Street. The techno-jazz-inspired album contained performances with Dianne Schuur, Phyllis Hyman, Kid Creole and the Coconuts, and Tom Scott.
From 1985 to 1986, Manilow was involved with the pop album "Manilow" [RCA, 1985], and began a phase of international music, as he performed songs and duets in French, Italian, Portuguese and Japanese, among other languages.
In the 1990s, Manilow recorded a succession of "event" albums, guided by Arista's President, Clive Davis. From 1991's "Showstoppers", a collection of Broadway tunes, to a big band album [Singin' With the Big Bands, Arista, 1994], a 1970s collection [Summer of '78, Arista, 1996], the decade ended with Manilow recording a tribute to Frank Sinatra [Manilow Sings Sinatra, Arista, 1998].
After the start of the new millennium, Manilow left Arista records for Concord Records, a jazz-oriented label in California, and started work on the long-anticipated "Here at the Mayflower" album. The album was another eclectic mix of styles, almost entirely composed and produced by Manilow himself. 2004 saw the release of both a live album [2Nights Live!, BMG Strategic Marketing Group, 2004], and a soundtrack album of his musicals [Scores (Songs from Copacabana and Harmony), Concord, 2004]. Two Christmas albums, many live albums and compilations have rounded out a very large body of music.
Manilow appeared as a guest judge and arranged music for American Idol on April 24, 2004, the year in which he also embarked on his "One Night Live! One Last Time!" final tour. Some fans were unhappy that Manilow charged his fans $1,000 to meet him after the show, but ticket sales were robust, landing Manilow's tour into the Top Ten club for box office grosses in 2004.
Although not all Manilow's hits were written by him (the most notable instance, ironically, being "I Write The Songs", actually written by lyricist Bruce Johnston), he co-wrote, with lyricist Bruce Sussman, a musical, "Harmony", which was originally scheduled to preview in Philadelphia in 2003. After financial difficulties and a legal battle, Manilow and Sussman won back the rights to the musical. It is currently unknown when the musical is slated to reach Broadway.
On the heels of his 'Farewell' tour, Manilow opened a standing show in Las Vegas in 2005 at the Las Vegas Hilton, to which he will live in the Penthouse for 8 years, according to Newsweek and MSNBC. Adding to the show's Vegas-y feel was Manilow's audience interaction and - his crotch-grabbing dance move during "Copacabana."
Manilow has appeared in two movies. He portrayed Tony in a 1985 made-for-television film based on "Copacabana" (Annette O'Toole was Lola and Joseph Bologna was Rico). He also portrayed himself in the 2002 Kathy Bates-Rupert Everett comedy "Unconditional Love", in which Manilow's hit "Can't Smile Without You" plays a key role in the plot. He co-wrote the Broadway-style musical scores for the animated films "The Pebble and the Penguin" (1995) and "Thumbelina (1994)." Manilow hits have figured prominently in several films such as "Foul Play" and "Serial Mom".
Manilow made an appearance (performing "Can't Smile Without You", "Mandy", "I Write the Songs" and songs from his latest album) on the Oprah Winfrey show on April 7, 2005.
---
Sources: Wikipedia