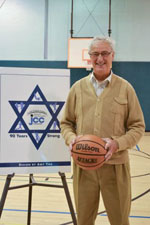 Barry Kramer was considered one of the best college basketball players in the country when he played for NYU during the 1960's. He was born on November 10, 1942 in Schenectady New York. When he played basketball for New York University he measured in at 6'4, and in 1963 he had the nation's second highest scoring average for a college player. He was named "All American" by a number of important publications including Basketball News and the Basketball Writers Association.
Kramer led the NYU basketball team to the NCAA tournaments in 1962, 1963 and 1964, scoring the third most points of any individual player during the tournament in 1963. When he graduated from NYU in 1964 he held the school records for points in a single game (42), points in a season (657), and points in a career (1,667). He was selected by the San Francisco Warriors as the sixth pick in the first round draft in 1964. After beginning the season with the Warriors where he averaged 3.3 points per game, he was unexpectedly traded to the New York Knicks mid-season. The 1964-1965 season was his first and only in the NBA, although Kramer scored 186 points and grabbed over 100 rebounds during that time. The following season Kramer played in seven games for the New York Nets of the American Basketball Association.
Following his retirement from professional basketball, Kramer attended and graduated from Albany Law School.He was later elected a surrogate judge in his hometown of Schenectady. After serving his term as surrogate judge he was elected to the New York Supreme Court in Schenectady County in 2009, retiring at the end of 2012 after reaching the maximum age allowed to serve as a judge in New York State.
Kramer was inducted into the National Jewish Sports Hall of Fame in 2014.
---
Sources: Basketball-reference.com, Jews in Sports, Schenectady County School District, Judgepedia