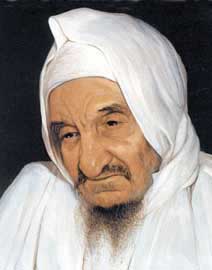 Rabbi Yisrael Abuhatzeira was a Moroccan-descent Rabbi and Kabbalist Teacher.
Baba Sali has become legendary to Moroccan Jews and is known as the "Praying Father" of the Moroccan Jewish community, who made Aliyah to Israel in the middle of the twentieth century. Baba Sali was part of a lineage of great talmudic scholars, and his sons continue to lead religious lives. He was married to his wife when he was 16, and she would play a large role in his religious pursuits. He is known for miracles preformed, particularly healing a crippled IDF soldier, and for helping lead the Moroccan Aliyah to the young State of Israel.
His funeral, in 1984, was attended by an estimated 100,000 people and his tomb has become a pilgrimage site to Moroccan Jews.
---
Sources: Famous Rabbis