Arthur Ruppin
(1876 - 1943)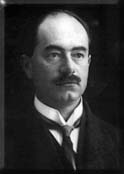 Arthur Ruppin was known as " the father of Zionist settlement" and "the father of Jewish sociology," titles that reflect his two convergent careers.
Born in Germany on March 1, 1876, to an affluent family that had fallen on bad times, Ruppin at the age of 15 had to leave high school in order to get a job. He received his high school diploma in 1899 as an external student, and went on to study law and economics in the university, earning a doctorate, and then working for several years in a court.
While working in law, Ruppin also launched what was to become a career in sociology, directing Berlin's Bureau for Jewish Statistics and Demography from 1902 to 1907. His sociological research, which he began publishing in the early 1900's, strengthened Ruppin's connection with his own Jewish roots. In 1907, he was sent by the Jewish Agency to Eretz Yisrael to assess the possibilities for Zionist settlement there; one year later he himself moved to Eretz Yisrael, settling in Jaffa and directing the Zionist Organization's Eretz Yisrael Office, which was responsible for acquiring land and establishing Jewish settlements all over the country.
From this point on, Ruppin labored tirelessly for Jewish settlement. He became an advocate of pragmatic Zionism, believing that the most immediate need was to amass land and, through a variety of urban and rural communities, systematically settle the country and thus build a state. Coinciding with the period of the Second Aliyah, Ruppin's efforts affirmed the importance of Jewish labor and Jewish settlements, and offered official support to the pioneers.
Ruppin's interest was in lands throughout the country, and he was instrumental in obtaining financial assistance for Ahuzat Bayit, later Tel Aviv, as well as in acquiring land on the Carmel, in the Jezreel Valley, and in Jerusalem. He also promoted a variety of settlement possibilities, including the kibbutz, agricultural farms, and types of cooperatives. It is here that Ruppin's background in demography and sociology helped map out the settlement of the Yishuv. Although initially a supporter of Brit Shalom, which called for a bi-national state in Palestine, he rejected the idea following the Arab riots of 1929, insisting on the need for a single Jewish state. In Ruppin's opinion, the practical opportunity for realizing this goal rested on the successful acquisition and settlement of land.
In 1926, Ruppin joined the faculty of Hebrew University and taught sociology of the Jews. He combined his academic responsibilities and research with public interest work. He assisted in settling the mass of German immigrants during the Nazi rise to power, and in the absorption of Yemenite Jews. He died in Jerusalem in 1943.
---
Sources: The Pedagogic Center, The Department for Jewish Zionist Education, The Jewish Agency for Israel, (c) 1997, 1998, 1999, 2000, Director: Dr. Motti Friedman, Webmaster: Esther Carciente.