Arthur Ochs Sulzberger
(1926 - 2012)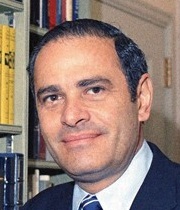 Arthur Ochs Sulzberger was a Jewish American publisher and businessman.
Born on February 5, 1926 in New York City to Arthur Hays Sulzberger and Iphigene Bertha Ochs, Arthur attended the private Loomis School in Windsor, Connecticut until age 17, when he enlisted in the U.S. Marine Corps during World War II. In school, he was ambivalent about his studies and struggled with hereditary dyslexia. His father asked Army General Douglas MacArthur, the chief leader of the Allied forces in the Southwest Pacific Theater, to take care of Arthur, so the young Marine accompanied Gen. MacArthur to Tokyo when the Japanese surrendered.
After the war, Sulzberger graduated with a B.A. in English from Columbia University in 1951, and was recalled to active duty during the Korean War to be a public information officer. In 1953, he joined the staff of the Milwaukee Journal as a junior reporter and a news editor. The following year he returned to the New York Times at the foreign news copy desk before becoming a foreign correspondent in Paris, France. His job in Paris was not particularly notable and in 1956 he returned to New York to work as administrative positions at the Times, starting with assistant to the publisher and assistant treasurer.
Sulzberger married Barbara Grant but the couple divorced before he moved back from Paris to the U.S. He married Carol Fox Fuhrman in 1956, and she died in 1995. In 1996, Sulzberger married the widow of a newspaper publisher in Spokane, Washington named Allison Cowles, who died in 2010.
Sulzberger was born into a prominent media and publishing family as his grandfather Adolph S. Ochs bought the newspaper in 1896. In fact, authors Susan E. Tifft and Alex S. Jones called Arthur Ochs Sulzberger "arguably the greatest" Times publisher since his grandfather.
Known for making monumental and positive changes to the New York Times, Sulzberger served as its publisher from 1963 until 1992. Among the most memorable changes he implemented was the transition of the newspaper to a publicly traded company. Additionally, he created the op-ed (opposite-editorials) page in 1970, and made the newspaper available across the nation through satellite printing plants. He also expanded the paper's sections to include coverage of arts and lifestyle news, science, sports, and religion.
Sulzberger died at his home in Southampton, New York. He is survived by three children, two sisters, and seven grandchildren.
---
Sources: Patricia Sullivan, "Arthur Ochs Sulzberger, former New York Times publisher, dies at 86," New York Times, September 29, 2012.; Wikipedia; Photo copyright New York Times