Art Buchwald
(1925 - 2007)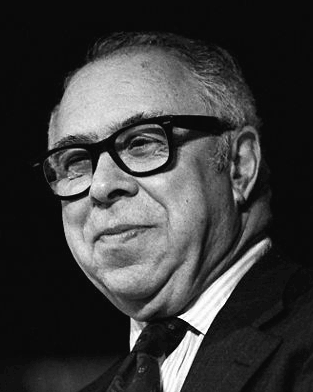 Art Buchwald, a Pulitzer Prize winning columnist, was born on October 25, 1925 in Mt. Vernon, New York, to a Jewish family. His father, Joseph Buchwald, was a curtain manufacturer and his mother, Helen Buchwald, suffered from mental illness and spent 35 years of her life in a mental institution, rarely seeing her son. Buchwald and his three sisters – Alice, Edith, and Doris – grew up in Queens, New York. At the age of seventeen, Buchwald dropped out of high school and joined the United States Marine Corps to serve in World War II. From October 1942 to October 1945, he served in the 4th Marine Aircraft Wing, spending two years in the Pacific. He was discharged from the service as a sergeant.
On his return to the United States, Buchwald enrolled at the University of Southern California in Los Angeles under the G.I. Bill. While there, he served as managing editor of the campus magazine, Wampus, wrote a column for the Daily Trojan, the campus newspaper, and worked on a variety show called "No Love Atoll."
Buchwald decided he wanted to be a writer, dropped out of USC before earning his degree, and moved to Paris in 1948. Once there, Buchwald got a job as correspondent for Variety magazine. In January 1949, he joined the editorial staff of the European version of the New York Herald Tribune to write a column titled "Paris After Dark," which focused on Parisian nightlife. With the popularity of his first column, Buchwald began writing a second column in 1951, entitled "Mostly About People." The two columns were later combined into one in "Europe's Lighter Side." The column in which Buchwald explains Thanksgiving Day to the French people in 1953 is reprinted every November with ceremonial regularity. Buchwald's columns soon began to recruit readers on both sides of the Atlantic. On August 24, 1959, TIME magazine, in reviewing the history of the European edition of The Herald Tribune, reported that Buchwald's column had achieved an "institutional quality."
While in Paris, Buchwald became acquainted with many celebrities. He was the only correspondent to substantively interview Elvis Presley during this period. Buchwald is also rumored to have had a short affair with Marilyn Monroe, who he also introduced to Judaism (to which she later converted). Monroe is said to be the basis in part for a character in Buchwald's novel "A Gift From The Boys" published in 1958.
In 1962, Buchwald returned to the United States and settled in Washington, D.C. There he wrote a syndicated column for The Washington Post that focused on political satire and commentary. He is syndicated by Tribune Media Services and at its height, his column was published in over 550 newspapers around the world. In 1982, Buchwald was awarded the Pulitzer Prize for Outstanding Commentary.
Buchwald has written some 30 books and was elected to the American Academy and Institute of Arts and Letters in 1986.
Buchwald was also known for the Buchwald v. Paramount lawsuit, which he and partner Alain Bernheim filed against Paramount Pictures in 1988 in a controversy over the Eddie Murphy motion picture Coming to America. Buchwald claimed Paramount had stolen his script treatment. He won, was awarded damages, and then accepted a settlement from Paramount. The case was the subject of a 1992 book, Fatal Subtraction: The Inside Story of Buchwald V. Paramount by Pierce O'Donnell and Dennis McDougal.
Buchwald died of kidney failure on January 17, 2007, in Washington, D.C.
---
Sources: Wikipedia, Tribune Media Services