Arnold "Red" Auerbach
(1917 - 2006)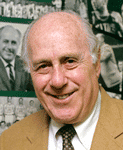 Arnold Jacob "Red" Auerbach was an American basketball coach of the Washington Capitols, the Tri-Cities Blackhawks and the Boston Celtics. He was born in Brooklyn, New York, on September 20, 1917. He attended the Seth Low Junior College in New York and George Washington University.

Auerbach was undistinguished as a college basketball player, but was an instant success as a coach. Auerbach led the Boston Celtics to 16 championship titles throughout his career, first serving as coach and later as general manager. As head coach of the National Basketball Association's (NBA) Boston Celtics l950-1966, Auerbach's teams won nine World Championships--eight in succession, nine within ten years--and 11 Division titles. The Auerbach-coached Celtics won 938 games, making his the winningest coach in NBA history until Lenny Wilkins overtook him during the 1994-1995 season. Auerbach is considered the most successful professional basketball coach of all-time. He was elected into the Basketball Hall of Fame in 1968.

Auerbach also coached the Basketball Association of America's (BAA) Washington Capitols l946-49, and the NBA's Tri-Cities l949-50. (The BAA and NBA merged in l949). His l946-47 and 1948-49 Capitols won Division titles.

As Celtics General Manager following his coaching career, Boston won NBA titles in l968, 1969, 1974, l980, and l981--the year he was named "NBA Executive of the Year".

In 1971, during the NBA's 25th Anniversary commemoration, Red was named the "Silver Anniversary Coach", signifying the League's honor as best coach of its first quarter century.
He died on October 28, 2006, from a heart attack at the age of 89.
---
Sources: International Jewish Sports Hall of Fame, AOL Sports; Photo: This file is licensed under the Creative Commons Attribution-Share Alike 3.0 Unported license. Copyright held by Steve Lipofsky, Basketballphoto.com.