Angela Buxton
(1934 - 2020 )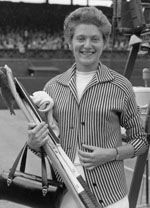 Angela Buxton was a professional tennis player and winner of the Wimbledon Doubles Championship in 1956 with Althea Gibson and singles finalist the same year. Buxton was born in Liverpool, England, her father's parents having arrived in England from Russia at the turn of the century. Her parents divorced when she was 13, and Buxton began playing tennis at a boarding school in North Wales.
After winning junior tournament titles in the under-14, under-15, and under-18 categories, she and her mother moved to London to develop her potential. It was there that Buxton first faced anti-Semitism from the tennis establishment, which she would face her whole life. She took lessons at the Cumberland, one of London's leading clubs, but was not allowed to join. Indeed, even after reaching her 70th birthday she still had not been invited to join the exclusive All England Lawn Tennis Club, which hosts Wimbledon.
"I think the antisemitism is still there," Buxton said in an interview in June 2004. "The mere fact that I'm not a member is a full sentence that speaks for itself."
Buxton and her mother moved to Los Angeles in 1952, but again Buxton ran into anti-Semitism when the Los Angeles Tennis Club refused to let her play there. After playing on public courts under the tutelage of tennis great Bill Tilden, Buxton won her first international tournament at age 19, beating world-ranked No. 8 Anita Kanter at the Maccabiah Games in 1953.
Buxton was ranked No. 4 in Britain in 1954 and No. 9 in the world in 1955 and played in the Wightman Cup for Great Britain in 1954, 1955, and 1956. Anti-Semitism continued to be a factor in her career, despite her top rankings, and Buxton had trouble finding doubles partners.
In 1956, she joined with Althea Gibson, an African-American herself shunned by her American teammates, to form a lifetime friendship and an unbeatable doubles team.
"The anti-Semitism made me more isolated, which I shouldn't have been," she said. "It made me more determined, more detached. People didn't realize what I was going through because I didn't bother to spell it out. I just took another route. The result of which was that I was on my own and, for different reasons, she [Althea Gibson] was on her own. And then we came together and beat everybody."
Former tennis player Katrina Adams said Buxton "championed the friendship and support of Althea Gibson when no one else would, in a racist era in our sport in the '50s." A book by Bruce Schoenfeld on the racism both faced, The Match: How Two Outsiders – One Black, the Other Jewish – Forged a Friendship and Made Sports History, was published in 2004.
Buxton was ranked No. 5 in the world in 1956 after capturing the Wimbledon doubles title and reaching the singles finals. That year she also won the English Indoor and London Grass Court singles championships and the English Hard Court doubles with Darlene Hard. Buxton reached the semifinals of the French singles and won the French Open doubles with Althea Gibson.
A severe hand injury forced Buxton to retire after winning the Maccabiah Games singles in 1957, at the age of 22.
She authored Tackle Lawn Tennis This Way (1958), Starting Tennis (1975), and Winning Tennis Doubles Tactics (1980), with C.M. Jones. She also helped found the Israel Tennis Centers. She was inducted into the National Jewish Sports Hall of Fame in 2014.
Buxton died on August 17, 2020 at the age of 85.
The International Tennis Federation described her as "an early pioneer of equal rights."
---
Sources: Elli Wohlgelernter, Encyclopaedia Judaica, (2nd ed.) © 2008 The Gale Group. All Rights Reserved;
"Althea Gibson's doubles partner Angela Buxton dies at 85," AP, (August 17, 2020).