Amnon Lipkin-Shahak
(1944 - 2012)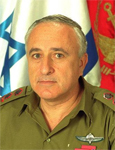 Amnon Lipkin-Shahak was a former Chief of Staff of the Israel Defense Forces, member of the Israeli Parliament and a Minister in the government of Ehud Barak.
Lipkin-Shahak (born March 18, 1944; died December 19, 2012) was born in Tel Aviv in what was then Pre-State Israel. He began his future military career while a teenager when he was enrolled in a military boarding school in Haifa and then enlisted into the Paratroopers Brigade in 1962 at age 18.  During his military career he was twice awarded the Medal of Courage - Israel's second highest military honor - for his acts of gallantry during Operation Inferno (the Battle of Karameh) in 1968 and Operation Spring of Youth in Beirut in 1973.
In 1983, Lipkin-Shahak was appointed O.C. Central Command and in 1986 he became Head of Intelligence Branch, General Headquarters.  In 1991, he was appointed Deputy Chief of Staff under Ehud Barak and in 1995, he succeeded Barak as the 15th Chief of Staff of the IDF. In his role as Chief of Staff, Lipkin-Shahak took part in negotiations with both the Palestinians and the Syrians however he butted heads with Prime Ministers Benjamin Netanyahu and Defense Minister Yitzhak Mordechai.  In 1998, after a 36 year service, Lipkin-Shahak retired from the military.
In 1999, he joined the new Center Party, ironically led by Mordechai, and he won a seat in the Israeli Parlimanet - the Knesset - when Ehud Barak was elected Prime Minister.  Lipkin-Shahak was nominated as Minister of Tourism in the new government and eventually also took Mordechai's position as Minister of Transport after his resignation.  In 2001, running with the New Way party, Lipkin-Shahak did not recieve the required number of votes and resigned from the Knesset.
Lipkin-Shahak was married with five children. He was a graduate of the IDF Command and Staff College, the National Defense College, and a Marine Command and Staff College course in the United States; and held a degree in general history from Tel Aviv University.
Amnon Lipkin-Shahak passed away on December 19, 2012 after a long battle with cancer.
---
Sources: Israeli Ministry of Foreign Affairs; Wikipedia; Jerusalem Post