Allen Ginsberg
(1926-1997)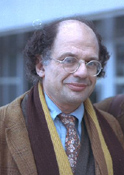 Irwin Allen Ginsberg was born on June 3, 1926, in Newark, New Jersey. As a teenager, Ginsberg began to write letters to The New York Times about political issues such as World War II and workers' rights. In 1943 Ginsberg graduated from high school and briefly attended Montclair State University before entering Columbia University on a scholarship.
Following graduation, returned home to Patterson, New York, where for five years he worked for an ad agency in Manhattan. It was also during this time that he began to study poetry under William Carlos Williams, who became his long time mentor. Williams taught Ginsberg to emulate the voice of the common American and to focus on strong visual images. Ginsberg's early breakthrough poems include "Bricklayer's Lunch Hour" and Dream Record."
Upon leaving New York, Ginsberg moved out to San Francisco, where he quickly became a member of Beat poetry scene. On October 5, 1955, Ginsberg led one of the most important events in Beat mythos, known simply as "The Six Gallery Reading." That night was Ginsberg's first public reading of "Howl", his most famous work. Following his beloved mother's death in 1956, Ginsberg was inspired to write what many believe to be his best poem, "Kaddish," an agonized rumination on her life and death.
Although, many people considered Ginsberg the leader of the "Beat Generation," he never once identified himself as the leader. Later in his life, Ginsberg formed a bridge between the Beat movement of the 1950s and the hippies of the 1960s. Ginsberg's poetry was strongly influenced by Modernism, Romanticism, the beat and cadence of jazz, and his Kagyu Buddhist practice and Jewish background. He often performed his poetry to music.
Ginsberg also made an intense study of haiku and the painting of Paul Cezanne from which he adapted a concept important to his work, a concept he called the "Eyeball Kick."
Ginsberg's principle work, "Howl," is well-known to many for its opening line: "I saw the best minds of my generation destroyed by madness." The full title of the poem is "Howl for Carl Solomon." Ginsberg blamed the conformist society of post-World War II America focused on material gain, for the destruction of all those outside of societal norms. Shortly after its 1956 publication by San Francisco's City Lights Bookstore, it was banned for obscenity. The ban was later lifted and declared to possess redeeming social importance.
Ginsberg won the National Book Award for his book "The Fall of America." In 1993, the French Minister of Culture awarded him the medal of the Order of Arts and Letters.
Ginsberg died on April 5, 1997 in New York City.
---
Sources: "Allen Ginsberg (1926 - 1997)." American Jewish Historical Society, American Jewish Desk Reference, (NY: Random House, 1999). pg. 531-2, Wikipedia