Alfred Stieglitz
(1864 - 1946)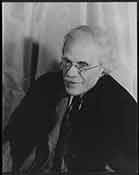 Alfred Stieglitz was an American photographer who was instrumental in the acceptance of photography as an art form alongside painting and sculpture. He was born on January 1, 1864, in Hoboken, New Jersey to prosperous German Jewish immigrants, the eldest of six children. In 1881, Stieglitz's father moved the family to Berlin so that Alfred could receive a German education. Stieglitz began studying mechanical engineering at the Technische Hochschule in Berlin, but after developing his first photograph in 1883, he changed his concentration from engineering to photochemistry.
During the summer of 1886, Stieglitz traveled throughout the European countryside taking photographs. These included many photos of peasants working on the Dutch seacoast as well as undisturbed nature within Germany's Black Forest. In the same year, Stieglitz entered his first club and magazine competitions and in 1887, won first prize for "A Good Joke" from the magazine Amateur Photographer. Also, at this time, British and German periodicals began to publish Stieglitz's photographs.
Stieglitz returned to NY in 1890 and became a partner at Photochrome Engraving Company. A year later, he joined the society of amateur photographers and, in 1892, acquired the first four-by-five inch hand-held camera, with which he photographed New York City. In 1893 Stieglitz married Emmeline Obermeyer, with whom he would have a daughter named Katherine (Kitty) in 1898. Between 1893 and 1896, Stieglitz served as Chief Editor of the American Amateur Photographer.
In 1894, Stieglitz's work was exhibited at the first International Salon at the Photo Club of Paris. One year later, he chose to leave the Photochrome Engraving Company in order to concentrate on photography. In 1896 Stieglitz was asked to resign as Chief Editor of the American Amateur Photographer because his autocratic style had alienated many subscribers. In 1897, R. H. Russell published a photo collection of Stieglitz's work, entitled Picturesque Bits of New York. Two years later, Stieglitz presented his first solo retrospective exhibit at the Camera Club, featuring eighty-seven prints taken between 1885 and 1899. In 1903, Stieglitz began editing and publishing Camera Work.
During the first part of his career, Stieglitz led the Pictorialist movement, which advocated for the acceptance of photography as an art form just like drawing or painting. Pictorialists believed that, like a paintbrush, a camera could be used as a tool to create a manmade piece of art. They often also manipulated their photographs in the darkroom to further illustrate their part in the process and therefore earn the acceptance of their work as art. It was not the scenes that were being photographed alone that were art, but rather the way the photographer shaped the picture to express his/her own artistry. As a Pictorialist editor of Camera Work, Stieglitz announced that every image published would be a picture, not a photograph. Stieglitz was also influenced by the modern art scene, especially by the Impressionist movement that embraced the city as a subject worthy of representation. Like European Impressionists, he chose to photograph the modern city, often represented by steam engines.
In 1905, Stieglitz opened The Little Galleries of the Photo-Secession, later known simply as 291, where he exhibited the work of photographers who had been published in Camera Work. The gallery later became a place to showcase the masters of European modernism, including Auguste Rodin in 1908 and Henri Matisse. Stieglitz even convinced Pablo Picasso to hold his first solo exhibition at 291 in 1911. The gallery also promoted the work of some American artists, including the then unknown, Georgia O'Keeffe. The last issue of Camera Work was published in 1917, the same year that 291 closed its doors.
"The Steerage," which Stieglitz photographed in 1907, marks a turning point in Stieglitz's career. It was in this photograph that Stieglitz abandoned the idea that photographs should look like paintings and began to explore photography in its own right. From this time on, Stieglitz took "straight" photographs in sharp focus, no longer using techniques to create the appearance of brushwork. In 1910, Stieglitz organized the "International Exhibition of Pictorial Photography" in Buffalo, NY. While he began to support photographs as photographs, Stieglitz did not change his opinion of the definition of art. In 1923 Stieglitz wrote, "My photographs look like photographs and they therefore can't be considered art."
In 1917, Stieglitz first photographed O'Keeffe. A year later, he left his wife and daughter and moved to NY with O'Keeffe. He divorced his wife and married O'Keeffe in 1924. That same year, an exhibition held at Anderson Galleries exhibited sixty-one of Stieglitz's prints alongside fifty-one of O'Keeffe's paintings.
Stieglitz opened the Intimate Gallery in 1925. After only twenty exhibitions, he closed the Intimate Gallery and opened An American Place in 1929. Stieglitz's last solo exhibition was held at An American Place in 1934.
During the 1930s, Stieglitz took a series of portraits of Dorothy Norman and O'Keeffe. These photographs were the first to recognize the artistic potential of isolated parts of the human body. In 1933, Stieglitz presented a gift of more than 1,000 works of art from over 100 artists to the Metropolitan Museum of Art, and in 1941, the Museum of Modern Art acquired a group of Stieglitz's photographs.
Stieglitz was forced to retire in 1937 due to heart disease. Stieglitz died on July 13, 1946, at the age of 82.
---
Sources: PBS.
Minneapolis Institute of Art.
The Heath Anthology.
Wikipedia.