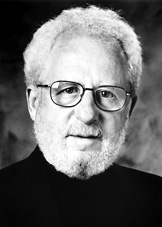 Alan Heeger is an American physicist and Nobel Prize laureate in Chemisty.
His area of emphasis is in polymer chemistry and is known for his work in the fields of semiconducting and metallic polymers. In addition to the Nobel Prize he has won numerous awards such as the Oliver E. Buckley Prize for Condensed Matter Physics, the Balzan Prize for the Science of New Materials, the President's Medal for Distinguished Achievement from the University of Pennsylvania, the Chancellor's Medal from the University of California, Santa Barbara, and many honorary doctorates. Heeger is a member of the the National Academy of Engineering (USA), the National Academy of Science (USA), the Chinese Academy of Science and the Korean Academy of Science.
Heeger was born in Sioux City, Iowa to the children of recent Jewish immigrants from Russia. His family moved around Iowa and then Nebraska where he attended the University of Nebraska with majors in Physics and Mathematics. Heeger's next step was a Ph.D. program at the University of California at Berkeley while working at Lockheed Martin's Space and Missile Division in Palo Alto. Upon graduation in 1961 he joined the faculty at the Univesty of Pennsylvania and this was where his research began.
Heeger won the Nobel Prize for Chemistry in 2000 with co-researchers Alan G. MacDiarmid and Hideki Shirakawa for their work on conductive polymers. Their results were officially published in 1977. His research has led to the founding of many companies such as Uniax, Konarka, and Sirigen. Heeger himself was a founder of Uniax.
---
Sources: NobelPrize.org; UCSB Department of Chemistry and Biochemistry