Al Hirschfeld
(1903 - 2003)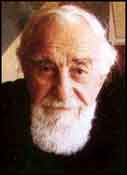 A man was recognized in Hollywood when Al Hirschfeld drew a caricature of him. The artist was perhaps the most successful cartoonist in America, having published books upon books of caricatures of famous personalities.
Hirschfeld's first jobs were in the movie industry (before pictures with sound were available), possibly sparking his interest in caricatures of famous personalities. He worked as the art director of Selznick Pictures, managed by David O. Selznick. Hirschfeld was responsible for the poster promotional of the silent motion picture "The Cabinet of Dr. Caligari." It was in the early days of the movie industry that he rubbed shoulders with stars in show business, becoming good friends with Charlie Chaplin eating with the Marx Brothers on occasion.
Born in St. Louis, Missouri, the cartoonist's mother raised him in New York. He attended the Art Students League and obtained a position at the Warner Brothers Film studio. He later studied painting and classical European motifs in Paris in 1924. By the late 20s, he knew he was interested in pursuing caricature art as a profession.
He discovered this in 1926 when he started working with the famous publicity agent Richard Maney. After attending the theater with Maney and absently drawing a portrait of the French actor Sacha Guitry on his program, he received commissioned work at The Herald Tribune.
Another big break in his career arrived in 1928, via a telegram from the New York Times. The Times requested that he draw a portrait of the Scottish comedian Harry Lauder. By the time he finished that, the Times wanted another portrait done, this time of Zasu Pitts. Steady work from the paper continued for almost two years. Hirschfeld claims that during those two years he never met any of the newspaper staff, and continually turned his work in to the doorman.
Later on he became a well-established caricature artist for the New York Times. In his portraits he would always hide the letters of his daughter's name, N-I-N-A, after her birth in 1945. Readers of the Times' Arts and Leisure section were quite familiar with the game, checking to see if the number of "Ninas" they found matched the numeral Hirschfeld had attached to his signature.
He started illustrating books in the 1940s for well-known authors but in 1951 published his own book entitled: Show Business is No Business. He continued producing his own books, featuring The World of Hirschfeld (1968) and Hirschfeld by Hirschfeld (1979).
He died at the age of 99.
---
Sources: PBS. "American Masters: Al Hirschfeld."; Bernstein, Adam. "Caricaturist Al Hirschfeld Dies; Elegantly Drew Screen, Stage Stars." The Washington Post. January 21, 2003. B7; Marks, Peter. "The Master Strokes of Broadway." The Washington Post. January 21, 2003. C1.